Steps Toward a Quality Canning Operation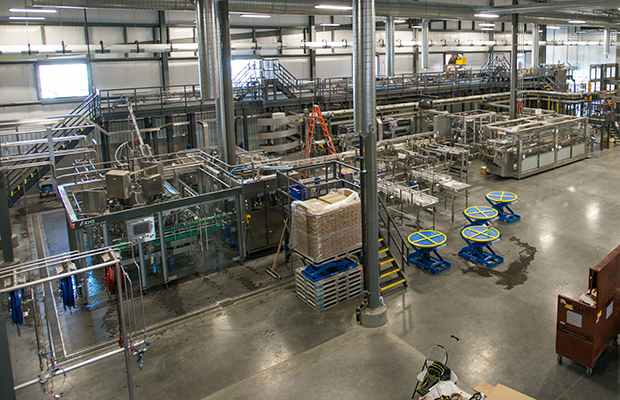 When SanTan picked out its current 12-ounce canning line Head Brewer Gabe Wilson said they were looking for something economical that could handle canning at a high rate of speed. The Chandler, Arizona brewery was in the growth mode and was moving from a pub model to production and that meant improving canning quality and speed.
"We were spending long hours canning on dual in-line can fillers and knew that upgrading to a brewery with bright tanks four times the size of our pub's tanks would require canning speeds much higher than the 60 cans/minute rate we were at," Wilson said. "Plus we wanted a counter-pressure filler that would minimize the low filled cans."
SanTan went with a rebuilt 40-valve rotary canning line that typically runs at 250 cans/minute now. The most important features were that the "newsed" line was much more affordable than a new canning line of the same type because it had a counter-pressure filling system that minimized short filled cans, and it had a mechanical seamer that helped eliminate leaking cans out in the market. Wilson added that SanTan also purchased a previously owned Filtec can level inspector that kicks out any cans not filled to a minimum level, thus eliminating the need for the constant weight spot checks that would have been next to impossible at that rate of speed.
Adapting to a new speed meant some adaptation at first for SanTan, Wilson said when the new canning line went online they had six-pack applicators that were too slow for the canning line speed.
"This meant that we had to have people stationed at the end of the line pulling cans off and adding can carriers manually in addition to the two slower units working," he said. "We finally upgraded to a faster six-pack applicator that can keep up with the canning line speed, and it has made the entire canning line more efficient."
There are many considerations ​someone must make when purchasing a canning line.
After properly sizing a line for expected production rates, ​Great Divide Packaging Manager Jeff Martin shared with Brewer the must-haves were focused on beer quality.
​"​Our first priority was a can filler with low-levels of oxygen pickup to increase the shelf life of our beer​," he said.​ "Second on our list of important purchases was a fill height inspection unit.​"
Like SanTan, Great Divide purchased a Filtec inspection system so ​Martin and his team could ensure every customer received the correct amount of beer in each can.
Essential to ​Pelican Brewing was a guaranteed dissolved oxygen performance metric. "Every packaging brewery needs a reproducible method for dissolved oxygen assays," explained Pelican's Director of Brewing Operations, Martin Bills. "We've had Hach Orbisphere's in our operations for decades.
"We dabbled in mobile canning, and this is what drove us to purchase our own rotary equipment. In our experience, and in the experience of our colleagues, it is difficult to get consistent results with inline equipment. There is far too little emphasis & effort being directed in this area in the whole industry. Stale beer has become the norm. As an industry, our products see additional stress from inconsistent storage conditions. High DO packaged beer will be stale in hours under heat stress (60-70⁰F). Really, not kidding. Monitor DO. Make the necessary changes to drive it to very low numbers."
Bills said that Pelican packages are typically packaged at 20-30 ppb.
"This will help ensure all our customers have the best possible experience," he said.
​The coastal Oregon brewery also demanded believable service/maintenance programs​ from its vendors.
"Since all of our combined experience was with bottling, we needed seemer technology that was proven​," Bills said, adding that since they switched to cans, they have sent ​its Packaging Manager to seemer school, but at the time we were ​'​completely in the dark.​'​
The number one importance to Mike Wayne, the Brewmaster of Boomstick Brewing, in selecting a vendor was confidence in the product. He said he's been lucky enough to work at 1,000-1,000,000 bbl breweries across international borders and experience is something you get just after you need it.
"This can all be overwhelming when selecting equipment because you're putting your own money, often backed by your own house, and risking your family's security to build your own dream with packaging food," he said. "You may know pop, cheese, beer, spices, or candles, but knowing all the ins and outs of engineering can be daunting. The worst part is you won't know there's a problem until it's too late.
That is where a trusted vendor is critical to your success.
"We may haggle for a few grand in negotiations, but the cost of ownership can make or break your brewery," he said. "A cheap machine will cost you. If you're packaging 10,000 bbls per year then each percentage of loss inefficiency is costing you $30,000 of sales each year.
"Over three years you'll have spent more on loss than the machine cost so knowing which vendor to choose is critical to your brewery's ability to survive."
A vendor gets confidence from the support after the sale, he added.
"There are a handful of vendors that I will choose every time for packaging: KHS fillers if I'm above 20,000bbls and Wild Goose fillers if I'm below," he said. "Pack Leader is my go-to for labeling. Markem-Imaje is my only allowed date coders. And all my conveyance comes with my preferred depal vendor: Ska."
As for individual machines, Wayne said he wants to just press start and have the machines run.
"My job is making beer," he said. "If any machine makes that harder it's not worth buying. I want the can to come to the filler, beer to go in the filler, an end to go on to keep oxygen out … then I want a label on the can."
Wayne feels that if your brewery is less than 50 CPM you can keep up with the line and pack out from a table. If you're above 50 CPM then you'll need additional machinery to case/tray the cans.