Chased by the Scene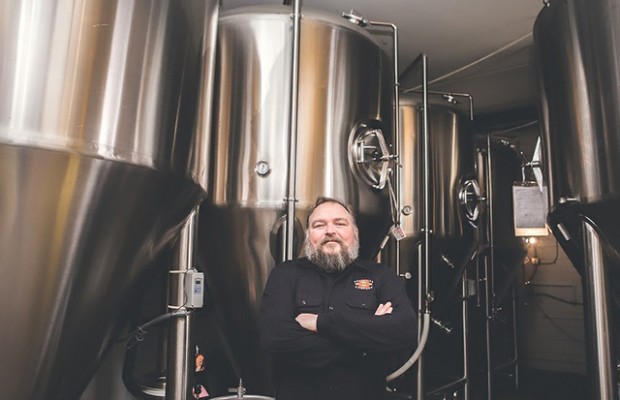 Doug Riley might tell you that he's been lucky to live in some unique places, but what his modesty won't reveal is that he also seems to be followed by some of the most happening scenes in modern culture.
Riley, now the head brewer and owner of Asheville Brewing Co., grew up in Muscle Shoals, Alabama, a place notorious for its music. Growing up he was good friends with the sister of Patterson Hood from Drive By Truckers, the son of David Hood, a legend in Muscle Shoals. From there Riley found himself moving out to Boulder, Colorado at a time when Boulder was truly making a name for itself.
"I was hanging out there and decided I wanted to make beer, and the only place I felt I could do that was Portland," explained Riley. "That was in '91. It exploded … I learned brewing. Portland's blown up and moved to Asheville, Asheville is getting as hot as anywhere, but it's a good place to call home and have my roots at for sure."
Asheville Brewing Co. opened in 1998 following the closing of the brewery Riley originally moved to operate. "When I moved here in '98 there was Highland Brewing Company, that started I believe in '95, and they were in the basement of Barley's Taproom right downtown, and there was another brewery that had just started — Green Man Brewery — which was right downtown as well," said Riley. "I think they had just started a month or so before we had just got our permits to start brewing."
Those were the two breweries that were in existence, in what is now a booming brewing city, towards the late '90s. Originally Riley moved to help open Two Moons Brewing, which was being launched by a family from Portland. However, six months in things changed drastically.
"They fired [their son] and gave us the opportunity to run the business," said Riley. "In December they decided they couldn't do it anymore and asked if we wanted to buy the business, so January of '99 we got everything finalized and bought the business."
Having a theater inside gave Asheville Brewing an instant differentiator. They started showing second run films and "it started bringing people in," said Riley.
"We started distribution in 2006," said Riley. "So it was about eight years and we self-distributed for a little while and in 2011 started talks with our distributor that we have now. By 2012 we were getting distributed by Budweiser Asheville."
In 2012 Asheville Brewing was doing about 2,500 bbls. up to about 7,500 bbls. "This year we'll probably max out at around 8,000 barrels," said Riley. "At the moment we want to see what happens in the market. I've been in the industry since '93, and seen the bubble burst a few times over the years. We're trying to focus a little more on our pub sales, just because there's more money in selling it by the pint than selling it by the keg."
The competition in Asheville has been good for Riley and his team. With the attention from major breweries like New Belgium, Oskar Blues, Sierra Nevada and potentially Deschutes in the city, Riley likes what's happening locally and feel that he wants to see how things shake out nationally over the next year or two before making any major growth decisions.
"It brings more people to the area with all the breweries we have," said Riley. "We've really become a beer tourist destination and they hit all the breweries, they don't just hit one or two. So, for us since we moved into the new area called South Slope … 10 years ago, we were in between the bus station and the shelter at the time — in the last 3-4 years we've had six breweries open up on the South Slope, so it's become the place to be. We were lucky enough to get here early and get a pretty good footprint"