Canning Logistics for Wild Ale Production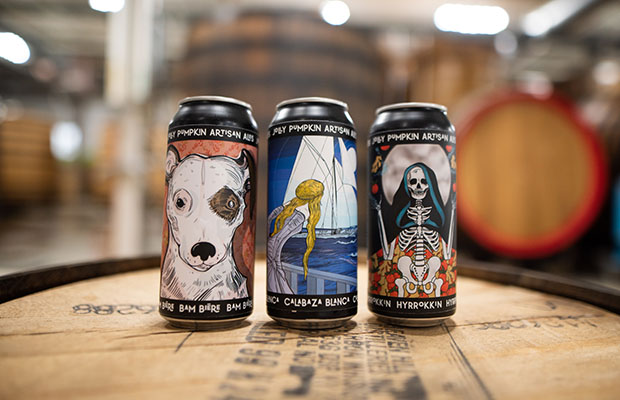 ​As Jolly Pumpkin sat down to decide can sizes, it really came down to one notion that wasn't exactly a business decision.
​"As much as I'd like to tell you that we had a great set of data analytics and elasticity curves for pricing discussions to sound smart, the real truth is [Master Brewer] Ron Jeffries nailed it when he said a 12-oz pour is just not enough," said Tony Grant, CEO/CFO of Northern United Brewing Company. "If we want to enjoy a pint we want a pint and thus the 16-oz can was the choice."
Jolly Pumpkin announced​ the launch of a new canning line for ​its wild ales​ recently.
The first beers off the line will be year-round favorites, Bam Bière and Calabaza Blanca. The​ Dexter, Michigan brewery is also releasing Hyrrokkin, the first release of a new fruited seasonal Saison series.
Grant did say that the team did pricing and margin analysis to make sure the plan to release the beers in 16-ounce 4-packs from 750mL glass bottles made financial sense.
"When we decided it was more about the best choice to enjoy the beer, we worked backward to ensure we hit both profitability and value for our customers," Grant said. "As it pertains to pricing and such we worked very hard with our suppliers (some new and most old that we have enjoyed tremendous working relationships with for years) to come up with our input costs based on our small purchasing leverage that would allow us to give our fans a real value with these beers.
"Our amazing sales team then worked hard with our beer distribution partners to make sure the value proposition makes it to our customers."
​Grant​ ​added that it ​took a lot of introspection,​ with tons of discussions from wholesale and retail partners and data from around the country​, along with​ international markets​,​ to get ​Jolly Pumpkin over the hump to move ​from 750s to a 16-oz can.
​"​We had seen a preference of cans by our consumers accelerate in a big way starting in 2017 and further into 2018​," Grant said​. ​"​We made the decision in early 2019 to procure a canning line with a spring 2020 launch as the goal.
​"​We still see a market for the 750ml bottles and will release specialty beers in this format for the foreseeable future. We will, however, mix in more releases in cans in the coming years as well.​"
This wasn't the first canning line launch for the company as ​NUBCo.'s North Peak Brewing launched with cans, replacing its stubby bottle look, in Spring, 2019.
The company has worked with Palmer Beverage Systems for canning lines both times now.
​"Our team is very comfortable with it and have really gotten to know it inside and out —​ ​it doesn't hurt to have an amazing team here at our brewery either​," Grant said​. ​"​Our DO levels and the line's consistency/dependability have been outstanding. When we made the decision to bring cans into the mix at Jolly Pumpkin there wasn't really any other team we wanted to work with outside of the Palmer Beverage Systems team.
​"​They have a great group and are really supportive of us with startup and any needs we have. That's not a paid response either, it's genuine. Again, when you are a small company sometimes it is hard to work with really large organizations and we have been through that over the years. You just have different needs and maybe need a little more "hand-holding​."​ It's best in some instances to find another small and nimble organization to work with that can understand your needs. It's a double win when that organization has a world-class product too.​"​
​Since Jolly Pumpkin deals with many products that take much longer to procure because of aging and time, Grant​ said adjusting pricing and finding a proper margin to satisfy the brewery along with the consumer's wallet can be a fine line.
​"At the end of the day, we can make really amazing beer and spend all this time and effort but if we don't price it right we won't give ourselves a good shot at introducing new customers to these beers​," he said. ​"We think the multi-pack can format opens that door for us. It finally gives the chain accounts a package they will consider for their aisles. We want Jolly Pumpkin to be approachable and to really put wild ales into the mix for an everyday beer. We believe our beers are very balanced and thus can be enjoyed by those that love complex wild ales and those that just want a great beer to quench a thirst​.​​"
Grant added that the key for this launch is to open up the category for the consumers that are new or trying a wild ale for the first time without turning them off as too tart​.​