Jolly Pumpkin to Transition Year-Round Oak-Aged Wild Ales to Cans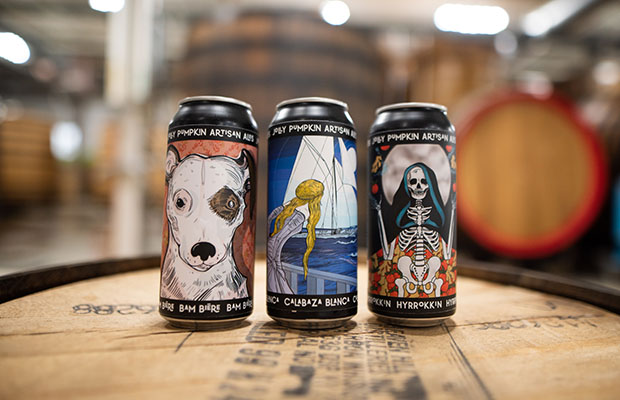 Jolly Pumpkin Artisan Ales, the first all wild, oak-aged brewery in the United States, announces the launch of a new canning line for their wild ales. The first beers off the line will be year-round favorites, Bam Bière and Calabaza Blanca. They are also releasing Hyrrokkin, the first release of a new fruited seasonal saison series.
"I'm super excited to be able to bring some of our favorite beers, such as Bam Bière and Calabaza Blanca, and a new favorite, Hyrrokkin, into cans. They are lightweight, convenient, and environmentally friendly. Perfect for any occasion, indoors, or outdoors" said Ron Jeffries, Founder, and Chief Squeegie Operator.
Bam Bière is a low-calorie farmhouse ale that is golden, naturally cloudy, can-conditioned, and dry-hopped for a tasty & delicious balance of spicy malts, hops, and yeast. Bam Bière has won medals in numerous competitions, was named one of the top 25 beers in America by Men's Journal, and has a RateBeer score of 95.
Calabaza Blanca is a low-calorie farmhouse witbier brewed in Belgium's bière blanche tradition. Spiced with orange peel and coriander, it is refreshingly tart, with a wonderfully dry finish. Calabaza Blanca has won gold in the Hong Kong International Beer Awards, was named a "Top 50 Beer" by The Fifty Best, and is rated the 12th best witbier in the world by RateBeer.
Hyrrokkin is a low-calorie foeder aged saison fruited with blood orange & ginger. It is an eloquent, crisp, & tart citrus ale with attitude.
"We are excited about this monumental move for Jolly Pumpkin. Our customers have been telling us for quite a while that we needed to give them a way to enjoy our beers in different settings. We always intended for our beers to be enjoyed as part of a special, shareable consumption opportunity and didn't realize how much Jolly Pumpkin fans wanted to have this experience on the beach, boat, golf course, you name it.  It took us a little while to "get there" but after some serious introspection and rethinking who we want to be when we grow up, we decided to take the leap.  We are so excited to bring one of the world's first barrel-aged, can/bottle/keg conditioned, wild ale breweries to you in our new 16 oz. 4-pack cans to join our beautiful Belgian bottles and draft offerings. Here we go!" said Tony Grant, CEO/CFO of Northern United Brewing Company.
Bam Bière
ABV: 4.5%
IBU: 24
TIME IN OAK: 2 Months
HOPS: Cascade & Crystal
GRAINS: Pilsner Malt, Pale Malt, Wheat Malt, Black Malt, Flaked Barley, & Crystal 75
CALORIES: 127 calories per 12 oz.
Calabaza Blanca
ABV: 4.8%
IBU: 15
TIME IN OAK: 2 Months
HOPS: Tettnang
GRAINS: Pilsner Malt, Wheat Malt, & Raw Wheat
ADDITIONAL INGREDIENTS: Coriander, Sweet Orange Peel, & Bitter Orange Peel
CALORIES: 129 calories per 12 oz.
Hyrrokkin
ABV: 5.7%
IBU: 35
TIME IN OAK: 23 Months
HOPS: Perle, Centennial, Citra, Amarillo, & Simcoe
GRAINS: Pilsner & Raw Wheat
ADDITIONAL INGREDIENTS: Blood Orange puree & Ginger Juice
CALORIES: 146 calories per 12 oz.
Bam Bière, Calabaza Blanca, and Hyrrokkin will be available for purchase in 16 oz. four-packs at craft beer retailers in April throughout Michigan, Ohio, Illinois, Indiana, Wisconsin, Kentucky, Florida, Texas, and Arizona.