Brewing Up a Partnership: Celtics choose Jack's Abby for First-Ever Beer Collaboration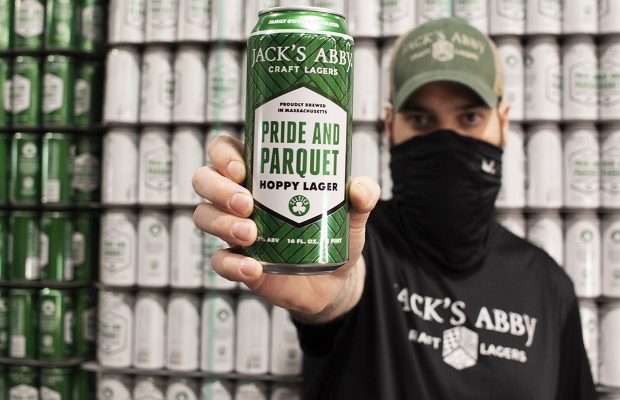 Pride and Parquet is part of a ​new ​multi-year partnership between Jack's Abby Craft Lagers and the Boston Celtics. This partnership is unique in both the beer and basketball worlds, as it is the Celtics' first craft beer collaboration.
The Celtics reached out to co-owner Sam Hendler and his brother to work on the collaboration. The Celtics created the idea for an official craft brewery and had a shortlist of breweries to pursue. This is only the fifth craft brewery collaboration across the entire NBA — and third independent craft brewery as Founder's recently joined up with the Philadelphia 76ers while Deschutes announced last year a partnership with the Portland Trail Blazers. Previously, COOP Ale Works shared with Brewer its work with the Oklahoma City Thunder while Breckenridge has partnered with the Denver Nuggets.
Rob Day, Senior Director of Sales & Marketing for Jack's Abby said that the brewery has added Pride and Parquet to its core lineup and expects some fair volume throughout the year.
"That is always dictated by demand," he noted. "This beer is just part of our craft Lager story, and we hope it serves as an introduction to new Jack's Abby fans and a fun reward for our already loyal fans."
Day said that Jack's Abby has already been down the road with hoppy Lagers and worked off the strength of its Hoponius Union brand to be a springboard for the creation of Pride and Parquet.
"[The beer] would be a true representation of our brand," he said. "We have brewed about a dozen different hoppy Lagers over the years and fine-tuned that craft which led us to create this recipe."
Pride is completely new and features some hops Jack's Abby has yet to work with, including Trident, Cashmere, and Lotus.
"We saw this as an opportunity to push our limits and showcase our skills in a category we've done very well in," Day said.
Hendler said in a release that, "to be able to do that with a giant in the sports world is a really unique opportunity for a small family business and we are bringing everything we have to this partnership and this special beer."