Brewery, Rock Band Find Way to Dual Market Each Other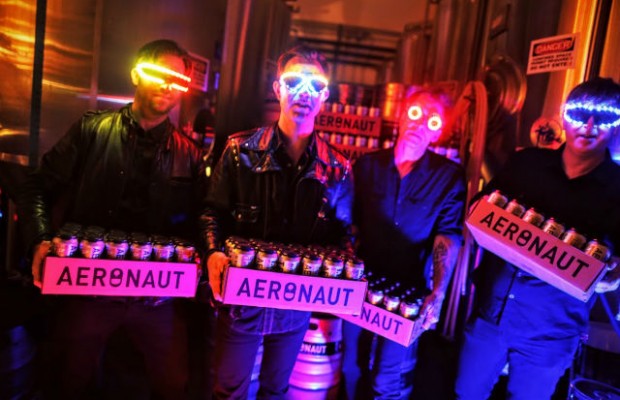 The confluence of beer and music struck with an original idea recently. A Boston-based band, The Lights Out, teamed with Boston-based Aeronaut Brewing to market the band's next album by releasing the cover art as a beer can label.
The beer/album, called T.R.I.P. (The Reckonings In Pandimensionality), a Imperial Session IPA, was released in the late fall and the response has been incredible said Aeronaut co-founder Ben Holmes.
"We wanted our respective audiences to cross pollinate and consider the pairing of music and beer," Holmes said.
Holmes said that The Lights Out had heard that Aeronaut was into crazy projects and dug music.
"They reached out and we were immediately on board," he said.
Added The Lights Out guitarist Adam Ritchie: "With T.R.I.P., we're bringing beer and music closer than ever, and giving craft beer drinkers and independent music fans — often the same people — a new way to discover music. We want to turn the craft beer aisle into the next record store, and bring back the in-person, tactile element to finding a new band. T.R.I.P. is a complete sensory experience, with sound, touch, visual and taste."
The can was created in a way that those consumers that want to get the music can follow instructions from the can to receive a link to stream or download the project.
With the way the album and beer was going to be named, coming up with the appropriate liquid was also a key.
"We wanted something that would be a perfect companion to interdimensional travel," Holmes said. "It would have to pack a lot of punch into each can for efficient stowage (hence a reasonably high ABV). It would also have to be drinkable and delicious, so that it could be consumed as the sole calorie source on long space flights (hence a "sessionable"). Thus the "IMPERIAL SESSION IPA" was born."
The band had "tremendous impact" in the success of the rollout, Holmes said..
"We worked together on design while listening to the music and they took on a huge role in promotion," he said.
A trailer video was also released to help promote the beer: