What These Breweries Learned from 2019 Goals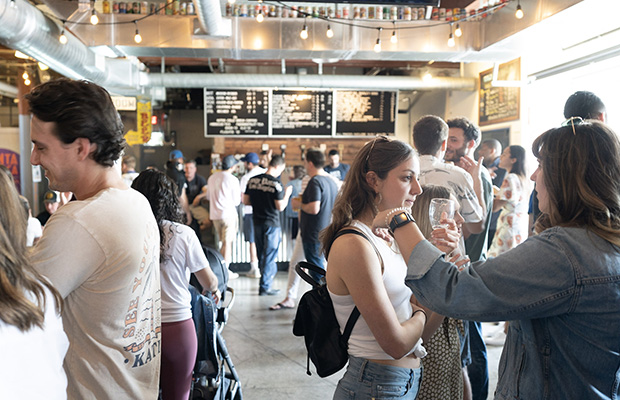 ​Heading into 2019, Seventh Son Brewing was hoping for 50​-75% ​in ​wholesale growth but came in at 30%.
​"​It's tough out there but we are still very happy with the progress we have made​," said owner Colin Castore and Brewmaster Colin Vent in an email to Brewer​​.
Setting goals and looking to challenge your brewery staff to help reach those goals is a great way to set a mark to reach for. Learning from not getting to those goals is also something that can be positive.
"We are again going to focus on growing our wholesale by 50% [for 2020] and keep ourselves open to the idea of another taproom as well," the Seventh Son team said, the brewery opened a Sour/Wild taproom and brewery — Antiques on High — which was a 2019 goal. "We are slowly learning how to communicate with our wholesaler better and have opened up some new self-distribution markets as well."
For ​Santa Monica Beer Works CEO Scott Francis being able to offer health and dental insurance to employees​ was a long-time goal reached this year​.
"​It took us a while to get there, but it was an incredibly satisfying moment​," he said​.​​ Also, adding the space next door to ​the brewery was something that was always dreamed about, but actually being able to accomplish that ​was a huge achievement for​ the brand as well​.
​Although a complete focus on ​its home territory of Southern California caused delay​s to​ the expansion of ​the brand into other territories​​ despite the demand, Francis said​ a recent​ expansion​ into Nevada​ — ​and with sights on several other ​states in 2020​ — ​SMBW is poised for strong growth ahead.
In 2018​, Freetail​ set ​its sights on one goal for the following year: To be the ​No. ​1 ​brewery in San Antonio.
​"In order to be effective in outer markets, you have to make sure your base is solid and growing," the management team said​​ in an email​. ​"​We wanted there to be a flag in the ground stating 'We are San Antonio' with our bat flying proudly.​"​
​The brewery — who will be one of the "hosts" of the 2020 Craft Brewers Conference — has been working with ​its local distributor, Silver Eagle, to own the floor in HEB​ stores through the area​ and continue to push for on-premise draft share​ during 2019​.
​"​In the last year we were able to grow over 16% in HEB alone​," they said​. ​"​As we continue working towards this goal, we continue to work on our long​-​term goals of moving into the Austin and Houston markets and expanding our new distribution footprint in the Rio Grande Valley, Corpus Christi, and El Paso.​"​
Looking to 2020 ​Freetail is pushing for 10-15% overall growth across Texas. Part of that growth ​could come by improving the visibility of ​its brewpub location that is consistently putting out new ​beers as well as quality food.
​"​As always we'd love to bring more people into both our pub and our taproom by complimenting our wares with events that highlight local talents and vendors​," they said​.
​They added that they are incredibly excited to host the 2020 ​CBC and World Beer Cup.​
​"​Being able to show the world what we do here is an incredible opportunity and we can't wait​," they said​.