​Brew Review: The Ways Weed Light​ Is Getting Its Brand Name Out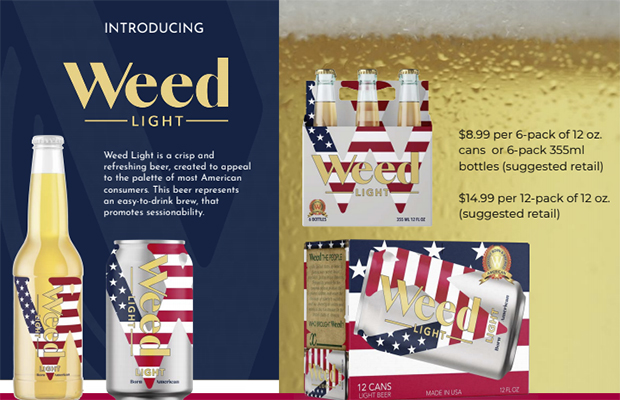 ​Weed Cellars, a new lifestyle brand, has launched into the beer ​category as well with the introduction of Weed Light. The brand is seeing large gains thanks to a highly and directed focus on branding and partnerships to introduce the beer to consumers in many ways.
Despite its name, Weed's beers contain no cannabis product, and the company also came out with Weed Golden Ale.
Weed Beer is part of the Weed Cellars umbrella, comprised of highly rated wines including Prosecco and Weed Straight Bourbon Whiskey.
Weed Light recently sponsored The Hospitality Tour, a small concert in New Braunfels, Texas. The Hospitality Tour raised funds to help those in the hospitality industry who are currently struggling due to the impact of Covid19. The New Braunfels event will direct funds directly back into that community.
Weed Light ​has​ partnered​ with the Gary Sinise Foundation​ ​in support of veterans and first responders.
​"​The GSF logo is featured on all Weed Light boxes and we're currently in the process of launching an end cap for off-premise retail, available to all our retail partners​," said Managing Partner Jim Moeller​. ​"​We'll be promoting this partnership through social media and advertising.​"
Weed Cellars has partnered with The AMG (Artists Management Group), headed up by country music talent manager, Rob Beckham. Beckham​ ​has brought in names like Chris Young, Brad Paisley, Colt Ford, Gary Allan, Essex County, and Alexis Wilkins​ to represent ​the brand at concerts, events, social media, advertising, and even in music videos.
​The company is currently in talks with ​NASCAR to sponsor and wrap competitors in upcoming races​ as well​.
Triller is a social network and entertainment platform similar in style to​ TikTok.​ ​Beckham's The AMG has cornered the country music category of the app through strategic partnership, and country music icons like Brad Paisley are already releasing social media campaigns using Weed products, like this one: No 'I' in Beer​.​
​The company has signed on with Minhas ​Brewery in Monroe, Wisconsin along with Alamo Beer Co. in San Antonio to contract brew the beers and to help ensure fresh products throughout the country.
​"We had a particular taste profile, and recipe with which we needed our brewery to be completely on board," Moeller​ said. "Minhas embraced the challenge and helped us fulfill this goal. Additionally, as aluminum becomes more of an issue, we're fortunate to work with a brewery who is well partnered with its suppliers ensuring our continued supply. Finally, our brand has hit the ground running, and the ability to scale up our increasing quantities is imperative."
​Moeller added that the​ ​Texan beer consumer takes great pride in local sourcing.
​"​With that in mind, we're proud to work with Alamo who has emerged as a wonderful asset to the Weed Light and Weed Golden Ale roll-out​," he said​. ​"​Our Texas packaging includes a GoTexan logo on every can, and currently Texas represents our strongest market for Weed Light and Weed Golden Ale.​"​