This Still Motivates Pagano to Make Low Tide Move Forward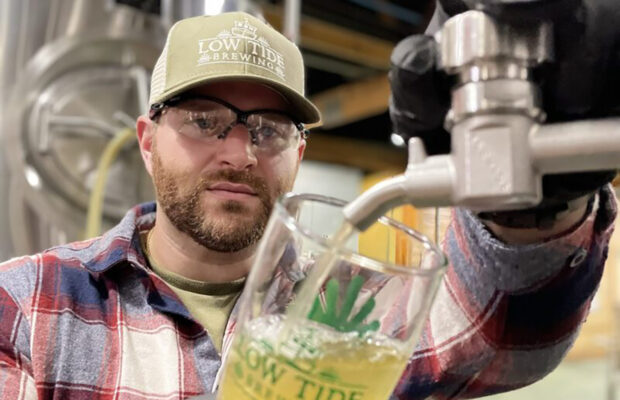 This is a part of a continuing series of Q&As with members of the brewing community from across the US.
Brewer Magazine will share business and personal insights from Brewmasters, Head Brewers, Brewing Managers, Sales Directors, QCQA Managers and others each weekend to help you get to know each other better in the industry and learn more to better develop your own brand.
Sam Pagano, Director of Brewing Operations, Low Tide Brewing — Johns Island, South Carolina
BREWER: What do you feel have been new challenges in your position that have helped push you and make you better at your job?
PAGANO: Anyone that has held a role in a leadership position within a brewery knows how many challenges you're presented with daily. As basic as ingredient shortages/price variations to as complicated as walking into the brewery to find the entire glycol system is down. Having been through this rollercoaster of problems over the past 10 plus years, I'm motivated to make things as easy as possible for fellow team members. I'll handle the problems; you focus your attention and energy on the task at hand. We'll both do the best we can!
BREWER: Why did you enter the craft beer industry and what makes you love being a part of it and staying in it?
PAGANO: Like so many in this industry, I did some homebrewing and just knew I wanted to be a part of the bigger picture. After these years, I still love the industry. I feel like it sounds so cliche to say, but it's extremely rewarding creating something for people to enjoy. People think all we do as brewer's is crush dingers in the walk-in, and while that may be true from time to time, it's a lot of hard work (physically and mentally). Staying in this industry takes a little bit of passion, and a little bit of lunacy.
​BREWER: What are some recent trends in brewing that you've tried or are excited about trying?
PAGANO: This may ruffle some old feathers in the industry, mine included, but we've found success with a unique product in the seltzer market. It's opened up so many fun ideas I can't wait to explore.  
BREWER: What was your business's greatest accomplishment during the past year, and what are your goals for your brewery this year?
PAGANO: We've done really well in the local voting scene, winning best bar staff and best beer multiple years in a row, as well as other recognitions. We also pulled some medals in the SC Brewer's Guild competition… But honestly, while these are fun accomplishments, I think our true success is measured by our constant, steady growth, as well as employee retention and happiness.
BREWER: What are some changes in the industry that you've observed in the past few years, and how has your business adapted to stay competitive?
PAGANO: So many changes, but all of them to be expected as this industry matures. I'd be remised to not point out the conscious effort to be more diverse and inclusive throughout the industry. The old boys' club is dying, and that's fine by me. In an industry that prides itself on unique products and experiences, being diverse is the way… If we want to talk about changes in the beers themselves? The rebirth/recognition of Lager, and it's about damn time.