Svoboda Brews One Up at B.O.B.'s Brewery
In the late 1980s and early 1990s John Svoboda was teaching high school and looking for a way to supplement his income in Grand Rapids, Mich. Already being a homebrewer, Svoboda found himself looking for a part-time job around brewing.
"I heard that a brewpub was opening up in a restaurant that already existed that they were going to convert it over and I got my way in as a bartender," explained Svoboda. "Once the bar opened up it was really really busy and they needed some help in the brewery just washing kegs, and I took that kind of route to wedge my way in."
The wedge was just enough for Svoboda to get in good with the brewer. And, once the brewer had had enough after a couple of years, Svoboda found himself leaving education altogether, and properly positioned to transition his passion for homebrewing into a full career. "That was back in 1997, so I've been brewing since then," said Svoboda.
Svoboda brewed at Grand Rapids Brewing for about 10 years, between 1997-2007 until he left to become the headbrewer at B.O.B.'s Brewery.
B.O.B.'s can't be missed in Grand Rapids. The acronym stands for Big Old Building, and its one of the oldest, and largest, buildings in downtown Grand Rapids.
"We are right smack down in the middle of Grand Rapids," said Svoboda. "If you point at downtown, you are pointing at our building. It was an old grocery story/dry goods warehouse back in the early 1900s, and it was going to be demolished. Greg Gilmore, a local business guy, and developer of older buildings, grabbed it, snagged it and refurbished it, and it stands for Big, Old, Building. It's an iconic building in Grand Rapids."
Six years ago Svoboda was coming back from a Michigan Brewers Guild meeting when he got a call from Gilmore to talk about coming over to B.O.B.'s as the brewmaster.
"I got a call from Greg Gilmore, the owner here, who said if I had a moment this week, could I come down and talk," explained Svoboda. "I assumed it was something else, I didn't really think it was going to be beer related. I got down here and talked to him and he said, 'we like you, would you be interested in working here,' and that turned into a job interview. That's the way it happened. It was right out of the blue."
When Svoboda came on, B.O.B.'s had yet to make its mark as a great craft destination. However, with the intense growth of craft beer, and Svoboda's exciting and well-crafted recipes, the brewery and restaurants around B.O.B.'s has seen immense growth.
"Right now it's a 50-barrel system, and we did over 700 barrels last year," said Svoboda. "It was a real nice number to get past, 700 I think."
B.O.B.'s doesn't have the ability to distribute, but it is able to use all of its beers in each of Gilmore's restaurants, as well as in-house growlers. Svoboda believes in the creative aspects of brewing and always strives to give the local beer enthusiasts something to talk about.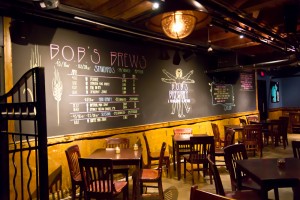 "I try to hit every main category and do something a little bit goofy," explained Svoboda. "I try to keep a barrel-aged beer on all the time, try to keep a really hoppy IPA on, and then a not so hoppy pale ale, always do a Belgium, the standard light beer and amber ale.
"I always try and do a really goofy beer, and right now it's a Peanut Butter Porter. It's an oatmeal milk stout with peanut butter in it. It's really taken off. I'm selling a boatload of it. I mean, it's candy show beer, but it's fun and people really dig it."
Svoboda continued to say that he'll see beer enthusiasts, that won't traditionally get excited about "out-of-the-box beers," secretly order the beer and be pleasantly surprised. "It really is good," he said. "A serious beer person might pooh-pooh it, but then they go into a corner and drink it and say, 'Wow, that's really good.'"
It's the cult opportunities that Svoboda enjoys about brewing at B.O.B.'s. He can get the consumers and other brewers in Grand Rapids talking about these unique crafts, that he may not have the freedom to develop at a larger brewery.
B.O.B.'s Brewery uses the tagline "A Renaissance Is Brewing," and that's exactly what Svoboda is doing daily. He strives to make the taste buds of the new and old craft beer lovers pop with each and every sip.