Stone Throws Back to Fan-Favorite Baird / Ishii / Stone Japanese Green Tea IPA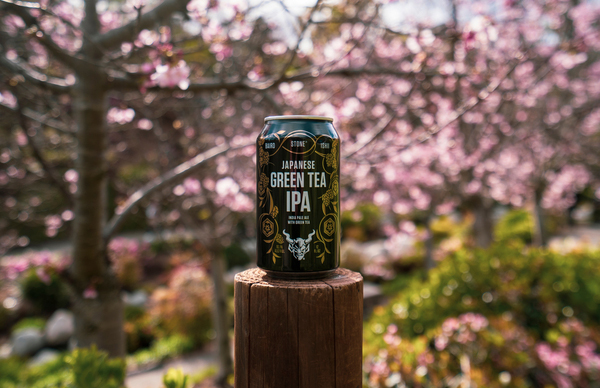 Stone Brewing announces the release of the second beer in its series of Stone Fan Favorites, Baird / Ishii / Stone Japanese Green Tea IPA. For discerning beer drinkers, this is their cup of tea!

In the whole wide world of things-that-go-together, tea and beer haven't often been among them. In fact, Stone Brewing was one of the first US craft breweries to try such a feat. Blending the assertive flavors of hops and the delicate characteristics of tea takes profound expertise. On the nose, Baird / Ishii / Stone Japanese Green Tea IPA imparts green tea aroma alongside peach, apricot and mango from the hops. Tropical fruit flavors – mainly mango and pineapple are followed by hints of mineral and tea. The tea flavor lingers, contributing a dryness to the finish. However elegant the artistry, this is no delicate cup of tea. The beer itself, in classic old school Stone style, is big and bold at 10.1% ABV.

The Stone Fan Favorites Series is a lineup of limited release throwback beers voted on by loyal fans of the brewery's prolific 25-year history. Baird / Ishii / Stone Japanese Green Tea IPA was first brewed in 2011 to support relief efforts from the tsunami in Japan. Good friends Bryan Baird and Toshi Ishii invited Stone to collaborate on this Japanese-inspired IPA that's been requested by fans ever since. Bryan Baird founded Baird's Brewing in Japan and Toshi Ishii, who got his start at Stone (1998-2001) founded Ishii Brewing in Guam, soon to open in Japan.

Stone's Senior Manager of Brewing, Jeremy Moynier, shared, "Brewing with tea is a great challenge. It's important to get the right tea and have it integrated and balanced with the other ingredients. This beer definitely strikes that balance, even at 10.1% ABV! This is a special beer, and I fondly remember that day, over 10 years ago brewing with Toshi and Bryan. This is an internal favorite and we are stoked our fans agreed and voted for us to brew it again."

Baird / Ishii / Stone Japanese Green Tea IPA is now available nationwide in 12oz six-pack cans, 22oz bottles and draft. Visit Shop.StoneBrewing.com for shipping direct to addresses in CA, OH and Washington D.C. or locate the beer by zip code at Find.StoneBrewing.com.