RAVING FAN CREATION: The Reasons Clark Lewey & Mike Saboe Still Call Toppling Goliath Customers Boss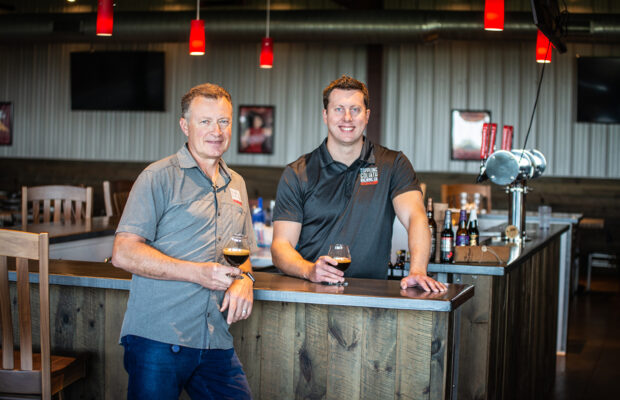 Structure and order. Chain of Command. From a spotless kitchen, tightly written SOPs, and even a clean grain room … it's what helps push Toppling Goliath forward each day.
Founder Clark Lewey credits time in the Air Force as why he has these thought processes. As he walked through the back areas of the Decorah, Iowa brewery, team members got ready for the day in the expansive taproom and kitchen that opened in 2018. Meanwhile, Lewey was quick to welcome and praise anyone in the production area after a long day of packaging the previous day. Plans for another run were already underway the morning Brewer spoke with him about how the brewery has grown since opening in the small northeastern Iowa town of 7,600 people to be a 50,000-barrel production facility that services the Midwest and beyond with a variety of brands and styles.
The kitchen was in order as it readied for the lunch crowd and Lewey was impressed as he began a short tour that he never told anyone to clean up, even in the grain room. It's just always in tip-top shape.
"This is how we expect it to look every day," he said as he flipped on the light in the grain storage and milling area. "The unique thing about it is we inventory the entire facility every week, which helps people be very organized about what's going in and what's going out.
"They're not necessarily recounting because they are keeping track as we go."
Structure, Lewey said, has always been good for him and as the brewery has grown, he has made sure to pass that off to his management team as well.
"Chain of command has always been good for me," he said. It all flows down through Lewey and his wife Barb, who is a Vice President and leads the company's philanthropy, while Mike Saboe leads as a fellow partner and has been the Brewmaster for a vast majority of the time the brewery has been open.
Saboe's leadership and experience in the brewhouse starts, Lewey said, with a well-crafted training program for production members.
"We get to the point where he can't do it all," Lewey said. "The training process was critical. Making sure from a very, very early stage that we had SOPs — written SOPs help you win. Typically, when you find that you've made an error, you either missed something in an SOP or now you have an opportunity to craft an SOP. And we take advantage of that.
"Being organized with our training and our administration, that was pretty critical to make the step from a 30-barrel brewery to a 100-barrel brewery. [Saboe] has a head brewer under him, two senior lead brewers, and then four other brewers that work on the team. So he's got a big team with a lot of responsibilities."
Lewey began Toppling Goliath as a hobby project in 2009 with a half-barrel system. He was a Vice President for Rotocast Plastics, a Decorah-based company that made point-of-sale products for beverage companies.
"I wanted to change the local scene in Decorah," he said. "You could not get the types of beers that we wanted to get, and the distributors here didn't think people wanted those beers."
Saboe — who was brewing for Hub City in nearby Oelwein, Iowa — and Lewey were both beer geeks that would travel out of state to find new beers. New Glarus being close by was a big inspiration to them as homebrewers while experiencing Minnesota brands as well.
"I started out wanting to do that and wanting to see how this hobby business can go," Lewey recalled. "The business plan looked a little rough. I designed a business plan that looks like we'd probably lose money for five years."
He added with a laugh, "Well, we nailed it. But once Mike joined me, I had a change in my thought process, that we could do something bigger than just change the local flavor. I thought we could do something bigger together. He was young and had a lot of energy, and I still had a lot of energy. Fortunately, I had the resources to grow the company and I thought we could do it and the demand was there. So we grew organically to demand."
So much so that the brewery moved into a new location — away from Lewey's garage — into a slightly larger facility near downtown Decorah while it continued to grow and gained a cult following with more and more buzz from internet chat boards which would make for large gatherings when it came to special releases. Sometimes, as a brewery grows to the size that Toppling Goliath has gotten to, it loses some of its luster to the "beer nerd" world of consumers. Yet TG continues to find popularity in its special releases even though the top-selling beer in its taproom is Dorothy's New World Lager. A lot of that credit goes to Saboe, the Brewmaster who joined the brewery fairly early and has seen it grow from a half-barrel system to a 10-barrel facility, then 30, and now a 100-barrel brewhouse with a space that could allow 100,000 barrels of volume per year since Lewey said they intentionally left space on the property and the building was created to be expanded out should the need arise.
Saboe and Lewey have built the brewery's "beer nerd cred" with popular annual barrel projects like Assassin, Kentucky Brunch, and more.
"I've got to take my hat off to Mike," Lewey said about the brand that launched initially in 2012 and now comes out each year. "Mike really developed the program."
Attention to detail drives those releases and Lewey said a lot of in-house tracking and tasting helps lead to making quality barrel-aged beers.
"He could take and get that information and track it and then track the characteristics of the barrel from the first time it's tasted to the last time it's tasted, to the blend. That's key, especially seeing how barrels change and how they don't," Lewey said.
An interesting aspect of the barrel room is that the TG team looked to eliminate some of the characteristics that micro oxidation brings to barrels by lessening the weight created by stacks on the bottom barrels.
"What we found was that when using the standard barrel rack — which you see as a common wine rack/barrel rack — it puts the weight of the barrels above it on the bottom barrels," Lewey explained. "The way ours work, No. 1, it's safer for the teammate. No. 2, there's absolutely no weight on this bottom barrel, which we found that it really decreased the amount of micro oxidation in the lower-tiered barrels.
"By doing that, it's reduced the angel share as well, which gives us that little bigger yield."
By 2015, Lewey — who had many connections because of his previous experience in the beverage industry — connected with Tim Schoen. Schoen had previously worked with Anheuser-Busch but had launched a new contract brewing facility in Lakeland, Florida called Brew Hub.
"He was a visionary if you want to know the truth," Lewey said. "What he put together with Brew Hub was pretty unique … because they were craft brewers, the brewers they put together were phenomenal. And I thought, 'Okay, I'm going to do something a little bit different, I'm going to make a splash with this.' They had started to work with Cigar City and then to land us was great with that company.
"For us, we got to expand to a certain amount. We got to have our beer enter into cans there."
The beer, he admits, wasn't the same as Saboe and the TG crew made in Iowa.
"It was good beer, we make great beer," Lewey said. "But it was good beer, their water profile is different. We didn't teach them everything we do.
"But where our beer really won there was we created a demand. We created a demand by opening up a couple of states that never had our beer before."
There was backlash at first. Lewey said that some people in the company didn't agree with him and it was reported in 2015 that Saboe left the company briefly.
"But ultimately it was the right decision for us to make," Lewey said, noting that seeing the production surge with Brew Hub helped justify the $15.5 million investment in the production facility.
What was to be a three-year contract was able to be fulfilled about five months early and by the start of 2018, the brewery opened its current home, including a new kitchen and taproom.
"Once we got to the point where I'm crunching the numbers, and I can see, we have enough demand now where we don't have to make any more volume there," he said. "I capped our production (there) and went to work on designing this building.
"I knew if we're profitable splitting the profit [with Brew Hub] and we're going to have the demand. We met the demand requirements right away and seamlessly filled up all these fermenters here without missing a beat with our distribution partners. All of a sudden, we were at full capacity, because the model came together well."
Lewey points out that Toppling Goliath is a production brewery focused on providing its 'bosses,' the customers, an exceptional experience, no matter what.
"We're trying to do that both here and we're trying to do that in Rochester, Minnesota. We're trying to do that in Boston and Denver," he said.
How that happens, though, is different.
"Obviously, in Decorah, we do it through our excellent training and our team members," he said. "In Denver, we've got to rely on whoever's running that tap bar. We've got to rely on them. We have to hope we have a relationship through our teammates and our distributors and with them, to have them be a brand ambassador for us.
The goal, he said, is making not just a fan, but a raving fan.
"That becomes its own marketing entity for you," he said. "The beer geeks, as you and I call it, know a lot about beer. They have great palates. They have opinions, they're interested in processes, they're interested in the how.
"With those people, you're going to talk a little more technical in some cases, and just share your thoughts about what we did. And you have an opportunity to build up enough trust in them, that's when they become your friends. They'll be honest with you. And that is critical. You've got to make sure somebody trusts you enough that they can tell you to say, hey, you know what, this beer tastes a little off for me, and here's why."
Lewey shared a story of a man from Florida that will still call him personally to share his thoughts on a new release. That's important, he noted.
"When you build fans like that, that's incredible," he said.
Now your other fan that comes in, they don't know a lot about beer, and maybe they don't want to.
"They still kind of like to know about the history of the company," Lewey said. "It's not necessarily the how they like, but they like the why. You can talk to them, and you find out what their genuine interests are. Then you go to work to see if you can get them to expand their palate a little bit."Ultimately, you're trying to create that same experience that somebody that knows a lot about beer can walk out and say, 'What an open company that really understands how important I am, the customer.' Same thing, somebody that just came in to have a sandwich or maybe just a iced tea and try a beer might say, 'You know, I've never had a beer that tastes like this before.'"