What Philly Sour Brings to the Game as a Yeast Strain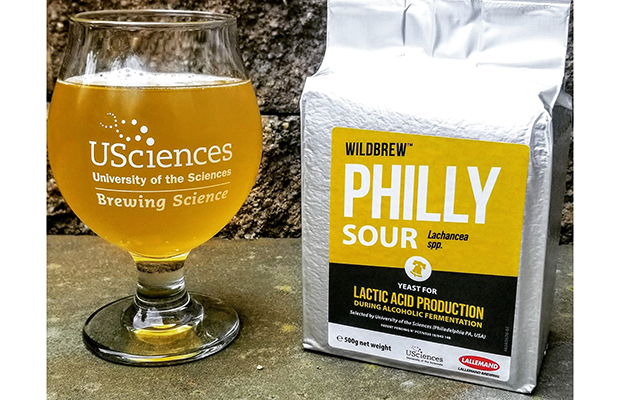 Tired Hands' Quality Technician Kurt Grunwald was first introduced to the WildBrew™ Philly Sour yeast strain while a student in the Brewing Science Certification Program at the University of the Sciences in Philadelphia.
"It was during the Quality Control Lab course, under the instruction of Dr. Matthew Farber. I first tasted a beer he brewed exclusively with this yeast," Grunwald recalls. "It jumped out of the glass! I couldn't believe a beer so sour fermented outside of wood, without kettle souring, and so quickly." Dr. Farber called the discovery serendipitous.
"Every year our students learn hands-on methods in yeast propagation and culture through a project we call 'Yeast Hunters,'" he explained. In this project, students collect samples from the environment, then enrich the samples for fermenting yeast. The yeast which are successful fermenters are then further isolated and identified.
"As part of the characterization, we check pH," Farber added. "When the Philly Sour strain was first collected, we measured a pH of 3.2. I initially suspected contamination, but after further analysis, we realized we had a yeast that made both alcohol and lactic acid. Most importantly it tasted good!"
Philly Sour is a pure culture of Lachancea spp. It will produce sour beer in 7-10 days at 25°C. The acidity produced is described as smooth, elegant and subtle. The resulting brew is highly balanced with flavor notes of red apple, peach and honeydew melon.
"The clarity of said beer due in part to the high flocculation characteristics of this yeast made me excited for its brewing potential in a commercial setting," Grunwald said.
BREWER: WHAT SETS THE PHILLY SOUR YEAST APART FROM SIMILAR TYPES IN YOUR OPINION?
GRUNWALD: The extremely high flocculation, very good attenuation, as well as the lactic acid production early on in fermentation set this yeast apart from anything I have seen in my time working at Tired Hands.
FARBER: If we consider some of the drawbacks of the Kettle Souring method of sour beer production, brewers are limited by time, scale, and style. Brewers are limited by time in that the boil kettle is full for 24-48 hours, preventing production of other brands. They are limited by scale in that the batch volume of a kettle sour is tied to the size of the kettle. Multiple turns to fill a larger fermenter is rarely possible with this method. And finally, kettle sours limit the beer style because lactic-acid bacteria are sensitive to hops. In addition, fermentation of a pre-acidified wort is stressful for many strains of ale yeast. Philly Sour opens the door to new sour styles.​ ​While Philly Sour will never replace the beauty and complexity of traditional, spontaneous sours, it provides another tool for sour beer production.​ ​Through our partnership with Lallemand, Philly Sour is available as an active dried yeast (ADY) that can be directly pitched into wort, further simplifying the process.
BREWER: ARE THERE ANY TECHNICAL CHALLENGES OR TIPS YOU HAVE FOR USING IT FOR SOMEONE THAT HASN'T USED IT YET?
GRUNWALD: One of the drawbacks I experienced with this yeast was tying up a fermenter for over a month while we waited for our Sour IPA to reach its terminal gravity. We kept our fermenter at 68 degrees Fahrenheit during all of fermentation and this may have led to slower attenuation. Luckily patience, as well as tank space, was a virtue at our disposal while working with Philly Sour yeast compared to brewing with other traditional brewing yeasts.
FARBER: We have received a lot of questions about re-pitching Philly Sour. We have re-pitched with success in our pilot brewery, but the challenge is consistency. Philly Sour is very flocculant which makes an accurate pitch rate challenging with subsequent generations. Because fermentation rate and acidity are connected to pitch rate, performance consistency in subsequent generations may be a challenge. An advantage of having Philly Sour as an ADY is consistency in pitch rate and yeast quality.
BREWER: DO YOU HAVE ANY 'OUT OF THE BOX' IDEAS FOR THE PHILLY SOUR YEAST STRAIN THAT YOU WANT TO SHARE?
GRUNWALD: I am looking forward to brewing the same Sour IPA recipe on our larger, production-scale brew system and see if the tank dynamics will affect fermentation time, lactic acid production, and overall quality of a beer we were very happy with.
BREWER: WHAT DID YOU EXPECT, AND DIDN'T EXPECT, FROM USING THAT YEAST? HOW DID YOU USE THOSE EXPECTATIONS OR NEW DISCOVERIES TO YOUR ADVANTAGE OR ALTER THE IDEA OF THE BREW?
GRUNWALD: I expected lactic acid production to occur quickly during fermentation, especially due to our large Dextrose addition, but I was utterly surprised at the speed in which it took place. The beer had a pH of 4.74 on Day Two of fermentation dropping all the way down to 3.16 on Day Three. I was also shocked by the drop in gravity from Day Nine to Day Twelve (8.8 to 4.9 degrees Plato). Other than the initial four degree drop from Day One to Day Three, the gravity was declining at a rate of 0.6 to 0.2 each day before this took place.