Neshaminy Creek Finds Sweet Spot as 10th Anniversary Gears Up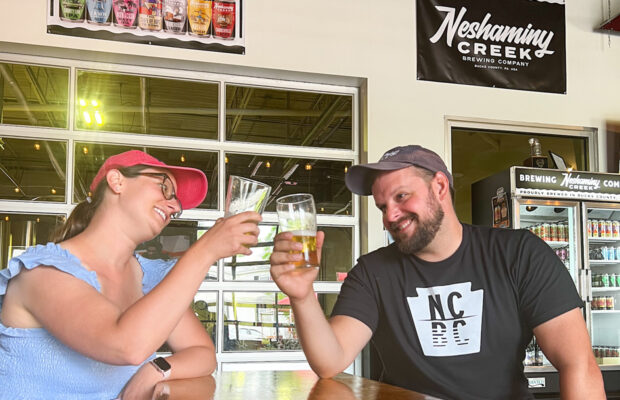 This weekend as Neshaminy Creek sets up to celebrate its 10th anniversary, the time to step back and take a breath should be now, but the Philadelphia-area brewery doesn't feel that it's that time yet.
After a few years of rough patches, reorganization and rebranding, the brewery is more comfortable than ever to push, but not as much as before.
Seeing massive growth in 2015 and more than doubling its size to 11,000 barrels, founder Rob Jahn explained to Brewer they didn't realize at the time that they were overextending themselves with such fast growth. Within a few years, the brewery was nearly double that size and was floundering with 13 sales reps in five states with too many irons in the fire when it came to an identity as what started as a production brewery became a music and event venue as well.
"By the time 2019 rolled around, there were some glaring issues that we were dealing with, in many aspects," he recalled. "We brought Jenna [Ball] in, in June of 2019 [as CFO]. During that time, with Jenna's expertise and looking at the books, we were making sure that we were getting back in line."
The goal, he said, was to get back to doing what they want to do best: brew beer and supply the Philly region with a quality and consistent product.
"We really had to get back to the basics," Ball said, shrinking back sales staff members from Maryland and Delaware. "We're going to focus on what our core business is. Making great beer, and it's for Bucks County and the Philly five and New Jersey, and we're going to focus on this market and make sure we're doing quality work here.
READ MORE: Four Ways to Inspire Brand Loyalty
"Then we can take steps towards expansion, once we have the fundamentals down, and we can sustain that. So that was the plan. I think that's what we ended up executing on. But obviously, COVID was a huge wrench in that. But, I think ultimately, that's still kind of how we got to be where we're at today."
Jahn pointed out that Neshaminy Creek used that time to focus on the core lineup and the people near them buying the beer most.
"We probably peaked around 16-18,000 barrels a few years ago and that is very much crazy and hectic for a million different reasons," he said. "We're not close to that right now, especially coming out of COVID. I think when it comes to the brewing side, science, and the love of craft, we're trying to enjoy the process and make as much beer for our hometown as possible.
"The mass production of it is draining on me since I'm on that side of it. So the hustle and bustle … that is not very much enjoyable, but this slower pace where we're being a successful business financially, and making enough beer, our people are happy and we're making things uniquely for the taprooms but also for the region. That is much more sustainable, especially if we're financially okay than this mad dash to make the most amount of beer."
The switch has included adding two other taprooms to the area, making a triangle of sorts with the home base in Croydon coupled with taprooms in New Hope and Dublin.
"The pace that we're going now is so much more enjoyable," Jahn said. "I think anybody whether it's brewing or making paper, we want to go into work and enjoy ourselves and feel like we're expressing ourselves and it's not this chaotic vibe all the time.
"So if our numbers are in that 10,000 range, in the coming years, like, that's great to me."
Photo courtesy Kyle Park, Neshaminy Creek Brewing