A Gnarly Calling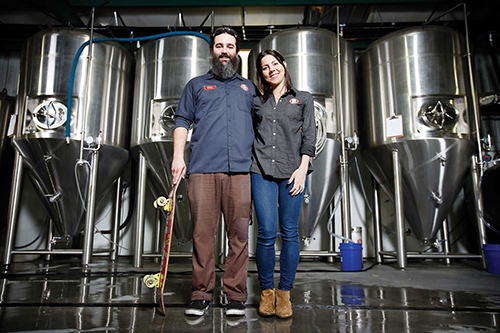 Some people strive their entire lives to reach a professional goal or dream, while others, well, are simply called to it. "At one point eventually he said he knew that he was put on this earth to brew," said Cari Caramonta, the co-owner of Gnarly Barley Brewing in Hammond, Louisiana, about her husband, co-owner and lead brewer, Zac Caramonta.
"My husband Zac started homebrewing and fell in love," explained Cari. "He found his calling and then the planning began."
Zac and Cari started taking beer to festivals back in 2011 and immediately received positive feedback from consumers. "It really made sense for us because my background and love is in marketing and business," said Cari Caramonta. "It just made sense that we could build a business doing what we both loved."
The name came from Zac Caramonta's skateboarding background where the term gnarly still is maintained in high regard. "Obviously that word rhymes with barley, so it just worked," said Cari Caramonta. "Our logo and tap handle is a skateboard wheel. We are even located less than a mile away from a skatepark Zac skates at."
Gnarly Barley is currently only serving three core beers by draft, brewed from its 10,500 sq. ft. warehouse: Catahoula Common, Radical Rye P.A. and Korova Milk Porter. The Catahoula Common is Gnarly's mainstay and "resembles a California common style beer, but with more crisp hop characteristics and less caramel than a typical steam beer," explained Cari Caramonta. "The beer sells the best for us because craft beer and non-craft beer drinkers alike appreciate its clean easy drinking qualities."
The Radical Rye P.A. is an India Pale Ale with 20% rye malt. "So it's heavy on the rye," said Cari Caramonta. "It's almost a rye beer first and an IPA second. It's very complex and had an amazing nose! This is usually our 'craft beer' drinkers beer."
Finally, the Korova Milk Porter is one of Gnarly Barley's highest rated beers according to Cari Caramonta. "It's a Baltic oatmeal milk porter," she said. "But it is surprisingly smooth for a porter, with notes of coffee and chocolate. The mouth feel is incredible and it's very easy to drink for a porter. We have a lot of folks that think they do not like dark beers, but they change their mind after drinking this one."
Gnarly Barley Brewing's goal, just like many breweries, is to grow and add more tanks. Starting out they are working with a 30 bbl. brewhouse with four 30 bbl. fermentation vessels and a 30 bbl. brite tank. The brewery purchased its equipment from LG Burke Inc. imported from Zhongde, China.
Photograph By: Rusty Costanza