Into Fermentation with David Thornton from SouthYeast Labs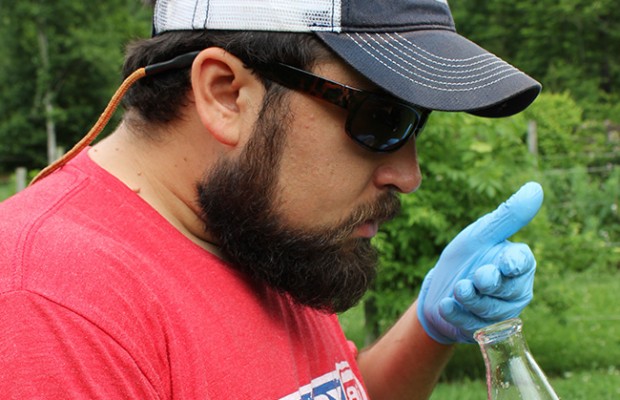 SouthYeast Labs, Greenville, South Carolina
David Thornton – Co-Founder/Chief Technical Officer
Type of yeast: N1-Native Strong Ale
Background on how it was cultivated: We cultured it in 2013 from an unsprayed control plot of June Princess nectarines at Clemson University's Musser Experimental Fruit Research Farm in Seneca, South Carolina.
First time you used it and what you liked about it: My partner at SYL, Even Skjervold, was a student of mine at the time in a project-based learning program at Clemson called Creative Inquiry. Our topic was capturing and characterizing regionally unique strains of yeast for brewing. When testing new strains we first ran the strain through a process we call "Yeast Boot Camp." This determines if the strain has favorable brewing qualities and is durable enough to survive the harsh brewing process. We then test all survivors in the same base wort for some qualitative analysis in the beer. This is basically a lite table bier recipe around 4.5 percent ABV with base malt of 70 percent pils, 20 percent white wheat and 10 percent Vienna.
What in its profile makes it stick out as a great yeast? It's high attenuation (around 82 percent). It's citrusy and champagne-like aromatics as well. It also has a cracked black pepper aroma after full attenuation.
What hops or malts go well with it? This strain can work well with any malt. It is best suited for styles like Saison, Biere de Garde, Belgian or American strong ales though a handful of breweries, like Carolina Bauernhaus, use it as the main strain in their farmhouse IPAs.
What is one of its unique characteristics? Unlike many of our wild strains, this one has excellent flocculation after about 80 percent-plus attenuation leaving a bright, clear, dry beer to feature the yeast profile.
Are there any surprise flavors that it can create or be perceived? The strain seems to decrease hop utilization from aromatic hops added late in the boil. A brewer should wait until full flocculation and attenuation have occurred before dry hopping to maximize retention of hop flavors and aromatics.
Any dreams of using this for something you haven't tried? We've tried a lot actually! From cider, to mead and even bread. It's our workhorse strain. I'd love to see more work with it in high-gravity beers though, and I also think it has potential in hybrid type beer/cider, beer/wine, etc. due to its high ABV tolerance, fruity esters and champagne-like quality.