Earnest Brew Works to Honor Edmund Fitzgerald with Release of Gales of November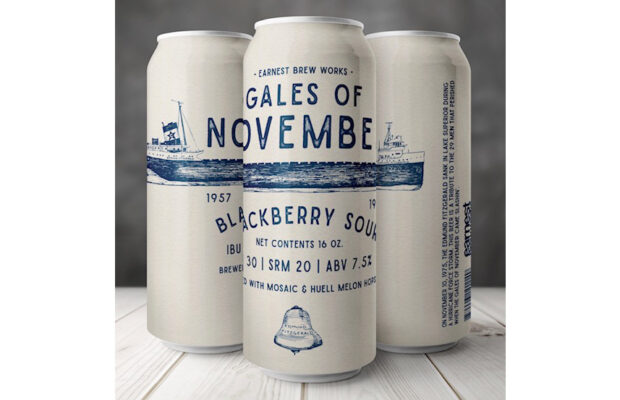 In honor of the SS Edmund Fitzgerald, Toledo, Ohio brewery earnest brew works (EBW) has announced the upcoming re-release of its popular Blackberry Sour Ale, Gales of November. Along with adding the beer on draft around the area and selling it in cans both at retail and in the taprooms starting Saturday, November 6, the brewery has teamed with the National Museum of the Great Lakes for a presentation about the crew at its downtown Toledo taproom.
EBW continues to pay tribute to the 29 men that perished 'when the gales of November came slashin,' as described in the 1976 folk song 'The Wreck of the Edmund Fitzgerald' by Gordon Lightfoot.
Gales of November will be released at 2 p.m. Saturday, November 6 at both locations — 4342 S. Detroit (South Toledo) and 25 S. St. Clair (Downtown) — with 4-pack 16 oz cans plus at select local retailers. Retail price is $16.00, with a limit of two packs per person."Last year was the first year for Gales and this beer sold out within a week so we have increased production for 2021," said co-founder Scot Yarnell. "Plus, draft (kegs) have been added for 2021."
Ellen Kennedy, the Education and Visitor Experience Director for the National Museum of the Great Lakes, will share "What Really Happened?", which is scheduled for 6 p.m. on Monday, November 8. Doors to the down taproom (25 S. St. Clair) open at 5 p.m. A suggested donation of $5 per person will go to the NMGL that night while $2 per pint of Gales will be donated that evening to the museum as well.
With its launch in 1958, the Edmund Fitzgerald became the "Queen of the Lakes," the largest vessel on the lakes at the time. "The Fitz" had an exciting life during the 18 years that it sailed, often carrying record-breaking loads. The loss on November 10, 1975 puzzles many to this day. Kennedy will explain several of the prevailing theories on the loss and explore the Fitzgerald's enduring legacy.With a Bachelor's degree in history from Clemson University and a Master's degree in history and museum studies from the University of North Carolina Greensboro, Kennedy has worked at several historic sites before joining the staff of the National Museum of the Great Lakes in June of 2015.
Along with Toledo being home to the National Museum of the Great Lakes, Edmund Fitzgerald Captain Ernest M. McSorley resided in the Toledo suburb of Ottawa Hills before his death, which struck a chord with Yarnell and helped in wanting him to create a beer to honor the tragic event.
With blackberry flavors bursting forth along a tart backdrop, Gales of November (7.5% ABV, 30 IBUs) includes Mosaic hops — noted for its berry medley aromas — and Huell Melon, which gives an intensely fruity smell and taste as well.