The Plan Included Being 'Events-Based,' but this Brewery Found a Way to Open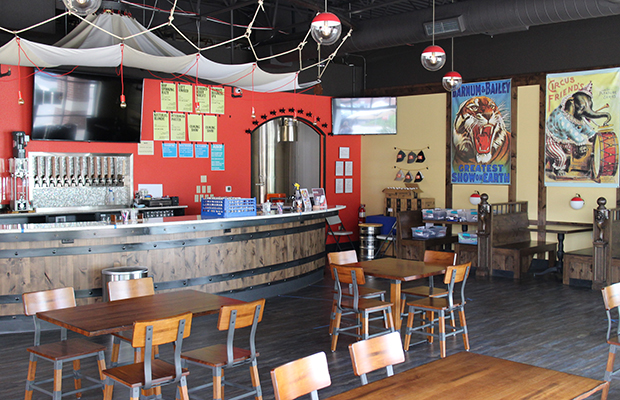 When LUKI Brewery opened on July 3 the Arvada, Colorado facility had a huge welcome by the community, said founder Jeff Smith.
A taproom-only model, LUKI has no distribution planned so Smith said it was a bit unnerving to start when they did.
"We were operating at 50% capacity in the taproom for the summer and beginning of fall, which brought us down to 32 customers," he said. "This was recently reduced to 25%."
An outdoor patio seats 40, and for the cooler weather, the new brewery has added some propane-powered fire pits.
"Like a lot of us in the industry right now, we're just finding the right combination of items that will make people comfortable to enjoy some craft beer outside," Smith said. "We're looking into branded blankets, scarves, or even a scaled discount based on the outside temperature."
LUKI regularly tries to walk that fine line in keeping things whimsical or playful without getting into any gimmicks or over-the-top elements because the background of the family is rooted in the Ringling Bros. Circus.
"Given the family history, leaning heavily on the 1920s imagery was important to shine through," Smith said. "Starting very early with our logos and style guidelines, we challenged graphic designers to put entertainment first with the retro feel. They got it right with the ticket and top hat elements."
The taproom keeps the theme going with a lot of classic elements — banners, wood booths with wood carved lion heads, and metal accents.
"The highlight is a tent over the bar, which doesn't have bright coloring and gives the feel of that burlap tent that was erected over and over again, town to town, every day," Smith said.
From a social media perspective, LUKI bounces around with the theme.
"Sometimes we will include photos from family in the circus back in the day, other times we'll lay elements in from our crowler design," Smith said, "and other times we go for straightforward beer shots with the taproom as a background."
A lot of the brewery's beer menu has late 90s styles and Smith said the community really appreciates that as sales in the taproom and to-go have been very brisk since opening.
Originally, LUKI was going to connect with the community by being an event-based facility.
"Sadly, we have a long list of fun and unique events that we've had to put on the back burner since they just won't work in the environment now," Smith said." But we review the list regularly to see if there's anything that can be modified in a way or use technology to give the same experience."
One of the more popular events that LUKI has been able to do was a LEGO challenge night.
As originally written in the business plan, there was going to be a community bin of LEGO and the brewery would throw a topic out there and let everyone build something and grab pieces as they needed. The best design would get a gift card.
"Well, that wasn't going to work," Smith said. "We found you could get "kits" of generic LEGO pieces in a plastic box. We bought 10 of them and let everyone sit at their table to do the same thing," Smith said. "When the event is done, we soak each box individually in sanitizer and dry it out for the next use.
"More work for us in-between, but it still feels the same and people have enjoyed themselves. There's some real talent and creativity out there."