Brewer Magazine Q&A: Andrea Simulcik, Glenmere Brewing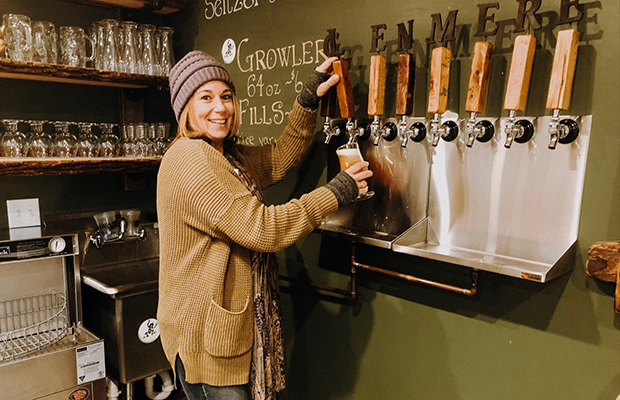 This is a part of a continuing series of Q&As with members of the brewing community from across the U.S.
Brewer Magazine will share business and personal insights from Brewmasters, Head Brewers, Brewing Managers, Sales Directors, QCQA Managers and others each weekend to help you get to know each other better in the industry and learn more to better develop your own brand.
Andrea Simulcik, tasting room manager/bartender, Glenmere Brewing — Florida, New York
​BREWER: How do you feel your job has had to adapt in the beer market compared to a few years ago?
SIMULCIK: Coming up with new ideas of events we can have at the brewery besides weekly music. We now have a monthly exercise class called Pound and Pour, hosting more private parties (birthdays, engagements, business functions) and fundraisers for our local community library, food pantry and fun fest committees. Having tour groups from the Hudson Valley and New York City come visit after there adventures at other local breweries, wineries or cideries. Some come after snow tubing at a local ski resort or rafting down the Delaware River. Inviting artists to come in to instruct "craft and create" jewelry and dog tags where participants also enjoy a pint or two during their time here.
BREWER: Who is your mentor in the industry and why? What have you learned from them?
​SIMULCIK: My mentor is Michael Sandor Owner and brewer of Glenmere. He has always told me quality over quantity. Why rush or brew as much as you can if quality won't be at its best. We want customers to come in anytime of year and order one of our beers and it has the same consistency and flavor.  His passion for brewing and of using local ingredients has really inspired me to learn about the different types of ingredients that go into our beers and where they come from.
BREWER: ​Can you share a success story that you are proud of in your job or maybe a story of how you learned from a situation that has altered your thoughts on how you do your job now?
​SIMULCIK: I always have customers coming in saying things like, 'I only drink light beer or dark beers, I only like IPAs, Sours, Stouts, Ales …' and they are hesitant to try different styles. We offer samples of any of our beers so they can try and compare and find one or a few they may like. Explaining similarities to others like it and the ingredients used to make it — explaining the flavors and aromas they will get. Sometimes people find they prefer a Lager or a Saison as well as a Stout or an IPA. And usually they walk away with a beer they never would have tried before or one of our flights where you choose beers from our tap list to create their own board.
BREWER: ​Can you touch on something your brewery has added lately that's unique or making your business more successful (it could be equipment, technology or people)?
​SIMULCIK: Our brewery has added local artists and craftsmen works to decorate and furnish our tasting room and brewing area. Almost everything you see, touch (bar and tables) and sit on is made by a local artist or craftsman. We have a local baker who creates snacks for our guests to munch on with our fine brews and even handmade soap sold here is made with one of our in-season beers.
BREWER: ​If you had one business strategy that you could implement to better the brewing industry, what would it be?
SIMULCIK: Create a community with other large and micro-breweries, wineries and cideries in your area or neighboring towns to work together and promote each other. A great working relationship with other businesses helps everyone. We carry their craft beverages and in turn they carry ours. We send new and regular customers to each other all the time.