Brew Review: Boulevard's Dive Into Craft Cocktails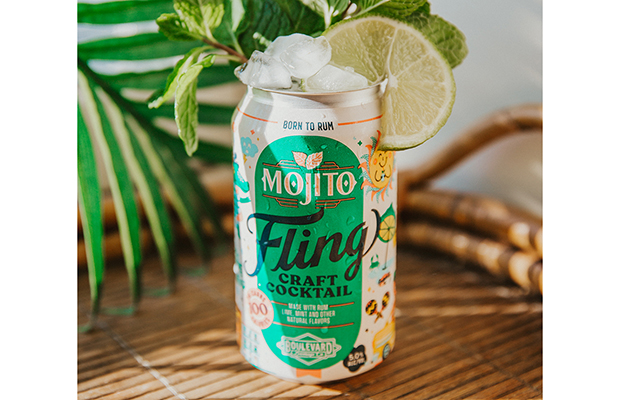 Engaging new conversations were on the mind of Boulevard Brewing as the brewery launched a new segment in sales more than a year ago with its Fling craft cocktail portfolio.
What started with four brands has now expanded to seven with the recent launch of Mojito, a canned take on the classic Cuban highball.
Ali Bush, Brand Manager of Fling said whether its consumers who avoid beer for dietary reasons or simply prefer spirits or wine, it has been awesome to widen the audience of potential new Boulevard fans.
"We've really seen Fling's portability embraced as an occasion-centric solution, at places like golf courses, pools, and tailgates where a proper cocktail might otherwise be hard to come by," she pointed out.
Bringing the Kansas City brewery's knowledge and passion for flavor development from beer to cocktails was a natural transition, Bush noted.
"Working with spirits like vodka, rum, and whiskey was certainly new to us," she said. "We are fortunate to have great local partners in 360 Vodka, Restless Spirits, and Mean Mule Distilling Co."
Learning about the distilling processes and eventually working with the products was new, exciting, and educational.
"Developing recipes for classics like Mai Tai and Gin and Tonic meant we had to drink the best examples of these cocktails we could find, in order to bring their spirit to life in a canned form," Bush said. "It was a tough job, but we were up for it."
A diverse portfolio is certainly one part of the success.
"Beyond variety, what we think ultimately moves our brand and the category forward is the high quality of our cocktails — offering an intersection of craft and convenience."
One of the original brands, Blood Orange Vodka Soda, has led the pack in sales. Fling hopes a "South-Beach-style" like Mojito is a great fit in the low calorie, low carb, all-natural and gluten-free category.
"Fans of our popular Mai Tai get the chance to have another rum-based offering with tropical origins in a more sessionable option — plus we loved the idea of sending a shout out to south Florida, where we have a great Fling following," Bush said.
The ready-to-drink format is relatively new to consumers, so Boulevard wants to showcase popular cocktails in the most convenient package. While classic recipes are the starting point, the company's flavor experts have certainly loved the challenge of producing a canned cocktail with all-natural ingredients.
Photo Courtesy Boulevard/Fling