A History of Pivots: Gabe Wilson & SanTan Constantly Looking Forward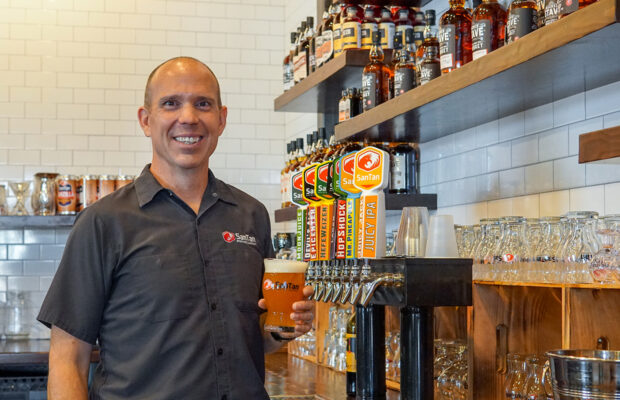 From brewpub to production brewery to beverage manufacturing, SanTan Brewing has shifted its business shapes multiple times since opening 15 years ago. Now, the largest craft brewery and distillery in the state of Arizona, the brewery isn't afraid to innovate and Head Brewer Gabe Wilson has been part of most adjustments that have been made.
Wilson joined more than a decade ago when the brewery was bursting at the seams at its Chandler, Arizona brewpub, and the brewery has grown leaps and bounds and added new equipment while expanding its portfolio year over year.
"That was more of an over encompassing view of SanTan that Anthony (Canecchia) has because he's the founder and is involved with all aspects including the brewpub and all that kind of stuff," Wilson said, "That this is kind of a logical progression of where a brewery can go."
Since Wilson joined the team in 2010, the brewery has built a new facility in 2013 and gone from a 15-barrel brewhouse at the brewpub to a 50-barrel production brewhouse; added a distillery in 2015 and has expanded beyond spirits into the vodka soda market as well while also contract brewing and improving the speed and efficiency of the brewery with updating technology as Wilson and his team sees fit.
"It was just a logical step from brewing​," Wilson said. "We deal with mashes in grain daily, it's just changing up some of the grains. We know how to do fermentations very well, we know all these things. So it does make sense to use those talents for an expansion of a product.
​"[We don't] want to just be stagnant with beer, but to open up to new products and possibilities.​"​
Whiskey — Wilson contends — is essentially a mature, concentrated beer.
"There's a certain commonality with it that I thought was relatively cool because it is an extension of what we're doing," he said. "It's not 'an instead,' we're not doing something totally different. We're still brewing and we're still making beer. We're just using some different grains that we would normally kick ourselves for using in such quantities on our system.
"We're still brewing, we're just getting much lower yields than what we normally expect."
The addition of a distilling team means more experts on the floor in the various needs of a production day.
"We try to occasionally pull some of ​that team over and train them on the brew side​ so that someday they would have the ability to maybe cover one of their brews, or just make sure that they know what's going on, on the beginning side of the wash​," Wilson said. "There's a certain art to ​[distilling]​ and not everyone can choose the right points to where you're going from heads to hearts, and then from hearts to tails and making those cuts and how much of what should go into the next batch that then gets distilled.​"
Although the largest distillery in the state with SanTan Spirits, the brewery side is the bulk of the operation.
A move nearly a decade ago into a spec-built building that never got a tenant during the 2008 Recession has become the production space, while the brewpub continues to deliver food and beer as well a few miles away in the more central downtown area of the Phoenix suburb.
Every growth move has been a bit of a leap of faith for Wilson and Canecchia. Wilson started at Sacramento Brewing after graduating from the Master Brewers program through UC Davis and was working on building a brewery in Costa Rica before moving back home to work with Canecchia — who had spent seven previous years as a brewer with Four Peaks — at SanTan.
"We're currently at a level now that neither myself nor Anthony, had any experience with before," Wilson said. "I'd never worked at a brewery that put out as much beer as we do, currently. So this has been a gradual growth. When we were in the brewpub, that was almost easy for me because, in my first job brewing in Sacramento, we were doing multiple brews per day. I was able to take that knowledge and help to kind of create that same thing over at the brewpub. At one point we're just brewing five days a week, almost 24 hours a day. And we weren't able to expand anymore within the facility."
There was a learning curve, Wilson said, when the new facility opened up, especially the size and scope of the tanks.
"You hear about it, but you don't really fully understand just how scary it is when you start to pull a vacuum in one of the tanks," Wilson said. "Our cold liquor tank actually has an indented top on it because when we first CIP'd, we're rinsing it with just regular ambient temperature water. We had the two-inch port for breathing, but we didn't think to open up the manway on the top of the tank as well, and it was not enough to keep it from indenting. Luckily, only the top kind of punched it a little bit. But other than that, we didn't have a crumpled tank or anything like that. So it's still usable.
"You don't realize how big of an opening you need for a 200-barrel tank versus a 30-barrel tank. You can abuse those and get away with it because you have a lot of flexibility."
Another quick lesson learned was yeast pitching.
"We were initially pitching yeast off of the same half-barrel keg brinks that we're using down at the pub," Wilson said with a smile. "Finally, over time we got to where we essentially bought a three-barrel, non-jacketed fermenter as our yeast brink now so we can fit 500 pounds of yeast in it and be able to properly pitch.
"At the time we weren't doing cell counts … so all these things were just new progressions. We needed progress because mistakes made on this level are very, very costly and we need to just keep on top of constantly and make sure that we don't have lagging fermentations or a 200-barrel batch that just tastes like green apple. That'd be the worst."
Personnel-wise Wilson said he is getting to the point where he has to start providing more of a directorial and supporting role while having others actually do the day-to-day brewing.
"[I'm] just making sure that they have everything they need, and being that person that can come in and solve an issue that they are having at the time," he said. "As far as day-to-day … whenever we have someone who calls out sick and we have no other option, I can always jump on and finish up the brew or do whatever.
"There's nothing here that I don't know the inner workings of that I can't work or perform. But day-to-day, I'm mainly telling them what they're brewing and when they're brewing it and making sure that they have the stuff that they need to brew it and just kind of making sure to facilitate successful brews and making sure it's all done right."
SanTan has a heart for innovation and Wilson said they aren't afraid to try new things. The brewery began packaging beer more than a decade ago in 12-ounce cans when it was still an oddity and Wilson showed off the brewery's co2 capturing device along with its centrifuge. The discussion of adding a mash filter to the brewhouse has been discussed while the canning line has been adapted over the years to make it more efficient.
"We actually look for the opportunities to be able to do it," Wilson said. "There was one time that a company was offering a pump for adding to the dry-hop process but also recirculating. We did trials with it, and side-by-side comparisons and ended up saying we don't feel that it gives that much more to our aroma than what we do already.
"But with a centrifuge, for example, when we tested that, we ended up buying the centrifuge. Because we were still brewing all of our main core products down at the pub as well we started noticing that the beers were different. So we bought a very small centrifuge for the brewpub as well. As soon as we did that, it was like, oh, yeah, they're all the same now."
W​hen it comes to spending, Wilson said Canecchia is the one that has to justify ​spending to ​financial partners that ​are investing the capital expenditure​. Building on to the lab, getting the co2 capturing machine and such purchases are important and it's been a necessity to the growth of the brand.
The distillery, which houses a 1,000 and 1,5000 liter still, has helped the spirit division to create vodkas, gins, single-malt whiskey, bourbon, and rye.
"Then we have our flavored whiskies as well and also sleek cans of vodka sodas that are similar to seltzers," Wilson said. "We played around with so many different iterations of doing some sort of seltzer. We weren't happy with any of the flavors that were coming out and we decided we already have the vodka, let's just do vodka sodas."
The brewery still has room to grow in its production space and SanTan has become a contract brewer for BJ's Brewhouse. The agreement has worked well and Wilson said that with the flexibility of the updated canning line, the brewery may look to offer brewing or co-packing services to local breweries in the Phoenix area. All these innovations are key pivot points to help continue the beverage manufacturing company forward.
​"​You don't plan for stagnation. You always look for: 'Where can we go from here,' " Wilson asked. "How do we grow? And it's just the history of SanTan, it's kind of a history of pivots and having the opportunity to do things."
Photos Courtesy Alice Huynh, SanTan Brewing