Walnut River to Raise Funds, Awareness for Autism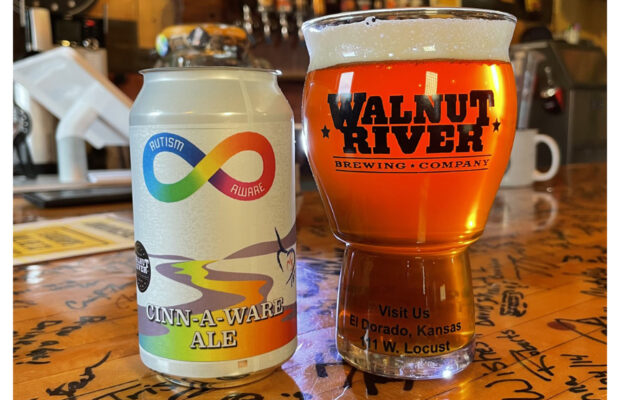 This April, Walnut River Brewing Company is excited to partner with Integrated Behavioral Technologies, Inc. for Autism Awareness Month. Our hope in partnering together is to raise both funds and awareness for the unique needs that families and children with autism have. This is an extra special cause for Walnut River Brewing because one of our staff members has a child on the autism spectrum.
To this end, Walnut River Brewing is developing a special cinnamon roll pastry beer called Cinn-a-ware Ale that will be going on tap in the El Dorado Taproom and at PourHouse, our restaurant in Wichita. 50% of all the proceeds raised through the purchase of Cinn-a-ware Ale will be going to IBT to serve families in Kansas. Cinn-a-ware Ale will be going on tap, starting April 1st.
"This was a fun experiment for us," says Rick Goehring, Head Brewer and co-owner. "It's amazing how much this beer actually tastes like a cinnamon roll! Creating something unique like this and partnering with IBT towards the cause of Autism Awareness is a really fun thing we get to do. I'm glad to be a part of it and I hope people love the beer!"
"I'm not gonna lie. I was skeptical when Rick said he was going to make a Cinnamon Roll Pastry beer," says Ben Wheeler, Director of Marketing at Walnut River Brewing Company. "I mean, Rick is a fantastic brewer, but that's a pretty specific taste. So, when he brought me a glass of the first batch and it SMELLED like a cinnamon roll, I was blown away. Everyone should give this beer a try. The fact that half the proceeds go to Autism Awareness through IBT is just 'icing' on the cake."
"We are so excited to be in Butler County and to have such an awesome beer brewed by Walnut River Brewing Company to help bring awareness and acceptance to the autism world," says Kari A. Wold, Clinical Services Supervisor & Manager for Integrated Behavioral Technologies, Inc. "IBT is a small not-for-profit that uses the science of ABA to provide and guide treatment for children and adolescents on the autism spectrum. We build treatment plans to address various deficits for the children we serve as they relate to their autism diagnosis. The funds collected through the sales of Cinn-a-ware Ale will go directly to our children and families to help provide resources, tools, and materials to be used to help promote their growth and development through the services we provide. Thank you all so much for your support!"
Cinn-a-ware Ale
Style: Pastry Beer
ABV: 5.2%
IBU: 11