Variety and IPAs: Starr Hill Focuses on its Consumers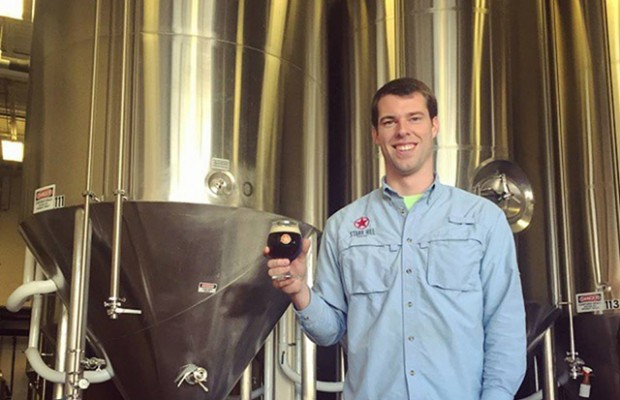 IPA is still the king and Starr Hill is embracing that with hopes to win new consumers or bring in some more critical-thinking aficionados.
A first for the Charlottesville, Virginia brewery that opened in 1999, Starr Hill is releasing a 12-pack IPA variety pack, featuring its award-winning "King of Hop" Imperial IPA. Instead of a multiple-style pack, Starr Hill head brewer Robbie O'Cain instead used popular citrus additives and a dash of heat to make four different versions of the IPA.
"Craft was built on exploratory or discover-based consumers, people that realize there is more to beer than one type of light lager," he pointed out. "Now we are more mature as an industry and each individual has been now choosing what kind of IPA they like."
O'Cain also noted that breweries, his own included, have sort of forgot that a vast majority of consumers still are not huge craft beer drinkers. Winning over those people with familiar citrus, like grapefruit or lemon and lime, can help pull in a new audience to a style that is very accessible.
"With these citrus characteristics … people move into these styles because it's something familiar," he said. "They can taste the grapefruit, or lemon and lime in there. It can pique their interest. These beers are great entry-level beers.
"It's also good for an aficionado that wants to see how adding grapefruit to King of Hop makes it different. This is what we are focused on."
First made in 2014, King of Hop is now Starr Hill's summer seasonal. Checking in at 7.5 percent, this will be the first time outside of the taproom that the base beer will be bottled with grapefruit, lemon/lime and habanero versions.
"The idea is that it's only one beer, but four kinds of one beer. Usually there are multiple [styles], with a regular IPA, a session, a black, white, red or double. It's kind of unique and I think this trend will come again.
"The idea that you are taking one beer and putting in additives is very cool for the consumer," O'Cain said. "It's kind of a look into the brewing process. You have to have a base before any additive addition or whatever you do. Yeah, there are different hops but you are building a framework and this can show a consumer that framework and build off it it."
Starr Hill worked with its wholesalers in the Mid-Atlantic and southeastern states that they distribute with to determine how much to make. Using an allocation pre-ordering system the brewery was able to make just enough in 12-packs while also figuring out draft accounts. The draft accounts skewed more toward the two citrus styles, so not as much habanero had to be created. The 12-packs became available at the brewery on March 24 with an official release date of April 1 to the distribution network, which includes Virginia, Alabama, Georgia, North Carolina, Tennessee, Maryland, Washington DC and Pennsylvania.
"What's out there is out there and that's it," O'Cain said.
To further capitalize on the still booming IPA market, Starr Hill will hold its first festival, an IPA Jamboree, on June 25 at the brewery. So far, O'Cain said 15 'born and bred' Virginia breweries have signed on to an all-IPA celebration.
"Most of the consumer base is consuming IPAs and people constantly talk about when the IPA bubble will burst or what is the next big style and the IPA sector keeps growing," O'Cain said. "So we are embracing that with this.
"There are a lot of breweries that are moving into the state that aren't from here and we just want to celebrate the home-grown breweries that have some great IPAs out there. We want to give consumers a chance to sample all those."