Two Saint Arnold Ciders Win at National Honey Beer Competition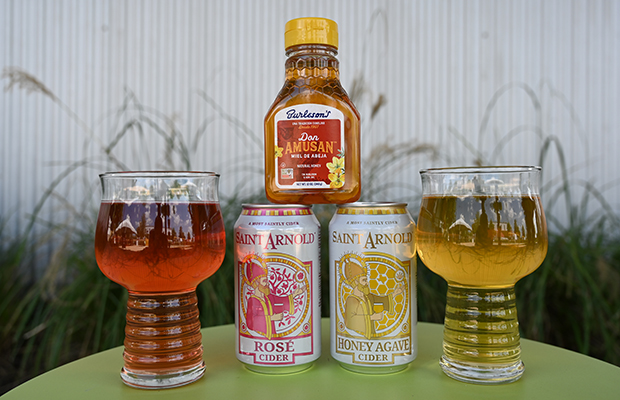 The National Honey Board awarded Saint Arnold Brewing Company's Rosé and Honey Agave Cider the gold and bronze medal, respectively, in the Cider category for their 2020 National Honey Beer Competition.
The Rosé Cider is made with Pacific Northwest apples, honey, and additions of hibiscus and ginger. The Honey Agave Cider features apples, honey, and agave. Both ciders use Don Amusan from Burleson's Honey in Waxahachie, TX, are 5.9% ABV, and gluten-free.
"Making cider has given us a creative outlet to play with different ingredients," said Saint Arnold founder/brewer Brock Wagner. "Honey has been one of our favorites, and we've enjoyed working with a local supplier in Burleson's."
"We're immensely proud of our partnership with Saint Arnold's and want to congratulate Brock, Aaron and the entire team on their award winning entries in the 2020 National Honey Board Beer Competition," said Stacey Drab with Burleson's Honey. "Saint Arnold's Rosé cider and Honey Agave cider, made with Burleson's Honey, is the culmination of two Texas legacies collaborating to create the finest craft beers and ciders for everyone to enjoy."
The two wins are an impressive haul for two ciders that have been in the market less than a year.
The National Honey Board received 220 entries for 13 categories from breweries throughout the country for this year's competition. The submitted beers were judged by a panel of BJCP judges on their aroma, appearance, flavor, mouthfeel and the role honey played in the beverage.