Tips for Bourbon Barrel Aging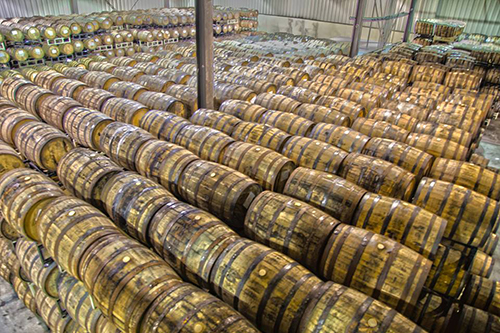 The secret to brewing a good bourbon barrel ale is really not so secret: Set up shop in the South. "More than 95 percent of bourbon is made in Kentucky, and there's just no way around that," said Ken Lee, the master brewer at Kentucky Ale.
Long-ago-forged relationships with bourbon distillers emerged as a win for Kentucky Ale, which veritably started the bourbon barrel ale tradition in 2006. Located only 20 minutes away from its closest distiller — and an hour to an hour and a half from the furthest distiller utilized for bourbon barrels — some of the top names in bourbon contribute to Kentucky Bourbon Barrel Ale's distinct profile.
"It's a timing thing," Lee said. "We try to get barrels as fast as we can from bourbon distillers while they're still what we like to call 'juicy'. And there's a very short period of time in which you can do that. When you look down in the barrel, you want to see your reflection in that little bit of liquid."
The amount of time lapsed between emptying bourbon from its barrel and refilling with beer, the more it affects the kind of profile Lee desires when making a bourbon barrel ale. Additionally, the further west, the more opportunities arise. (See our sidebar with Matt Van Wyk, the brewmaster at Oakshire Brewering)
"It's not impossible, it's just not optimal," Lee said. "Barrel freshness is just so important to the flavor. The ideal brewer for a bourbon barrel ale would be closer in proximity to barrels that are preserved nicely."
Lee said Kentucky Ale only uses bourbon barrels, and only uses them once. He warns against using "second-use" barrels, which people new to the business can sometimes be tempted to use for bourbon barrel ales.
"I think you get all the goodies out of it the first go around," Lee said. "So if they're getting a second-use barrel, that's not going to help them any with getting a good flavor profile."
The beer is cold filtered, bottled and you drink it cold, Lee said.
"For our flavor profile, we looked for nice and soft flavors; the gentle level of aging wood, but not an overpowering wood flavor," Lee said. "And for us to get that caramel and vanilla, and a perception of sweetness; we must do that cold."
When selecting barrels, it's important to sample some of the drainings from the more juicy ones to check the proofing and the flavor profiles of the incoming raw materials.
Although Lee said they haven't really had any issues with quality, it's also important to remain proactive and check barrels as they come in to ensure consistency.
After checking to make sure the barrels meet standards, barrels are evacuated of any oxygen, and blanketed with CO2 before being filled with beer.
"Beer and oxygen are obviously not friends," Lee said.
After filling, the barrels are put away for six weeks in cold storage.
"In general, it's a labor-intensive beer, but it's just part of the deal," Lee said. "And you've got to have people willing to move those barrels around and treat them respectably, so hire some people you trust because you're going to need a few of them."
The barrels are 100 pounds when they come in, and 550 pounds full, Lee said. Because of that, you'll want to limit the amount of shifting you undertake while the barrels age.
"Nature seeks equilibrium so we give the softer things the opportunity to become part of the beer," Lee said. "In warm environments, aggressive things tend to dominate. We want it cold to keep the softer things."
If a brewer wanted flavor profile to be more about wood than the softer, dynamic elements in bourbon, it could be aged in a warm environment. "For us, it took some playing with the temperature and time, and optimally we can get what we want at six weeks, anything under that and it doesn't produce the profile we strive for," Lee said.
At 12 weeks, it starts to change, and the PH starts to go down and tastes more like wood. Lee said they often experiment with timing, however, long after they've found the winning time for one particular brew.
"We've got one batch that's coming up about three years," Lee said. "We've checked it twice a year, and it's still dynamic; still moving in a good way."
In many ways, and with most beer, Lee said, it's a trial and error process, where brewers must experiment and thoroughly analyze the aromas and flavors to find something new and unique. Science is important, but the final determination is always how the beer tastes and how long it takes to get there.
"We started in 2006 with Bourbon Barrel Ale, and in 2008 we pretty well landed on the six weeks and started perfecting it — at least for bourbon barrel ale," Lee said.
Aging is an ongoing study — each variable slightly tweaked depending on if you add a stout, or a barley wine to the barrel. Malt or rye whiskey barrels could also be used to design a beer if a brewer were closer to whiskey barrels.
"For fun, we took some brandy barrels and put some of our Kentucky Ale Kolsch, and it went to market a little bit, and we entered for a contest, and it had an excellent flavor," Lee said.
Before the beer is bottled, it also goes through a layered blending process to integrate each bourbon flavor and make a more consistent profile.
"I think beer drink is for the adventurous soul anyway, and people love to have a taste of anything new," Lee said. "They love that kind of thing. It's really landed now, though, and it's grown since we started and few others started making good ones. We just happened to be somewhat ahead of the curve. We're going through about 1,000 barrels a week."
Matt Van Wyk on Barrel Aging at Oakshire Brewing

BM: Why did you decide to start using barrel aging for some of your beers?

MVW: Barrel aging, like making all craft beer, is an artistic expression.  When you add the element of oak (and liquor) you are adding extra "ingredients" to the beer. It's like a painter using a few more colors for their canvas. I've always been blown away by the flavors and aromas that are layered onto an already fantastic beer to create a wholly new entity. The wine industry has known all this for years as they use oak as an "ingredient" and artfully blend the aged liquid. I want to continue to let the art of barrel aging and blending to flourish in the craft beer industry.

BM: If you knew then what you know now, what advice would you give?

MVW: Do you mean before I started barrel aging?

Here's three quick tips:

1) Find more space (both for storing and for working with barrels) because you always want more barrels.

2) Bourbon aged beers need some body to them. Too dry and too bitter can become too harsh.

3) Get to know your organisms well if you have a sour beer program. Brett, lacto, and pedio can do wonders, or they can ruin all the hard work you have put into those barrels.

BM: What is it about barrel aging you enjoy?

MVW: I love the transformation for beer to barrel aged beer, and I love to be able to blend flavors from different barrels.

BM: Why do you believe barrel aging has become so popular, and how are you seeing it evolve?

MVW: From a brewers stand point, it is a new way to create and we all enjoy it. From a consumer standpoint, I think there are just more people who are eating better, drinking better and looking to spend their money on something special, nourishing and satisfying. Wonder Bread and cheap fast food are dwindling amongst those who have turned to craft beer. And finally, from a buisness standpoint, they are high margin beers. Even with the extra dollars invested into a barrel aging program, it can be pretty profitable.