The Tortilla Challenge, A Lawn Flamingo Beer Bong, and Stickers In Support Of The MJF Foundation
Are you going to slap each other across the face with these?
The bartender was onto us. After finishing tacos and margaritas at State of Confusion, we ordered three more fresh tortillas to-go. It was the thick of summer 2022 and the #tortillachallenge was heating up TikTok feeds across the globe.
We aren't really trend or hashtag chasers at RadCraft. Sure, it's important to keep your thumb on the pulse when you're managing a brand's online presence— but if there's not a compelling why? to learning the latest dance sequence or a donation to follow dumping a bucket full of ice on your head, I say it's all just noise.
Contribute breath not noise. It's one of my one-liners. And I really mean it.
That's why I surprised myself when I suggested we find a hilarious location to do the tortilla challenge along what we called Tour De RadCraft 2022. This 3+ week long road trip included more than 30 brewery, distillery, malthouse, and farm visits to our partners and friends. The remote nature of our work means that we don't always meet our collaborators in person right away, and I was on a mission to meet some people face-to-face before another summer became fall.
It went without saying that we would stop in Chattanooga to see the one-and-only LT Butts.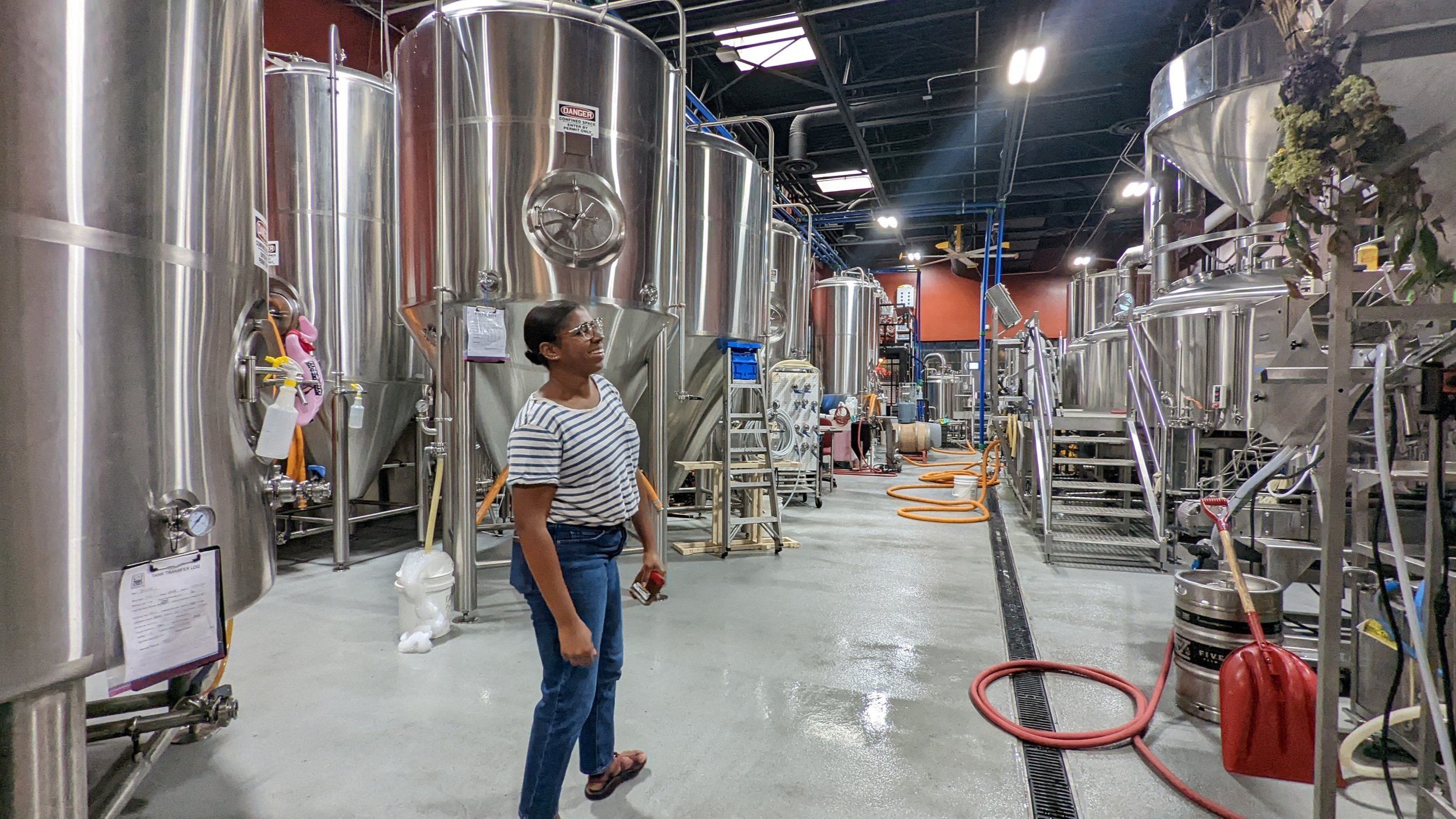 We'll get back to the tortillas, but first it's important to introduce this hardworking, humble brewer who we're lucky to know. We met LaTroya Butts when she came to work at Bonfire Brewing in Eagle, Colorado. She eventually moved home to Chattanooga, Tennessee to work at Five Wit's Brewing Company, and she would go on to receive scholarships from The Michael James Jackson Foundation for Brewing & Distilling and the Cicerone program via the Black Beer Chick #roadto100 initiative to further her brewing career. To-date, LaTroya is working at Resident Culture Brewing in Charlotte, North Carolina. She's grateful for all of the people and organizations who have been a part of her journey thus far.
Time To Meet Frieda.
The research and development for Five Wit's Brewing took place in the owner's pool house, "on a tiny system we called Pool City," Butts says. "They had giant flamingo floaties and shirts, and flamingos just became the vibe. Then I came along. Everyone who knows me knows I love flamingos… and my flamingo beer bong named Frieda. Elliot [who co-owns Five Wit's] once asked me what flavor Frieda was because he thought she should have a beer, just to see what happens…"
The result was Frieda Sour Ale— an effervescent kettle sour with just the right balance of strawberry and pineapple flavors. Frieda wasn't just a yard flamingo beer bong or the name of a beer in a can; she became a company mascot. To-date, Five Wit's has an outside patio adorned with yard flamingos who watch over the brewery. Inside, the OG Frieda and a new twin sister flamingo live in the brewhouse. Frieda isn't just a beer bong anymore; She is a summertime ethos; a symbol of well-crafted refreshment; an embodiment of the freedom that comes with long, warm days and the pride of independently brewed craft beer.
Back To The Tortillas.
Flash forward four years. We arrive at this Frieda shrine on our roadtrip, taste this remarkable sour ale, and take LaTroya to dinner at the Mexican restaurant across the street. One thing led to another and soon enough we were plotting our video. At Five Wit's, it all comes back to Frieda.
So we took Frieda and her twin sister off gently from their resting places on the fermentation tanks full of their namesake sour beer, fired up the GoPro, took some swigs of said sour beer, and got grooving on multiple rounds of rock-paper-scissors.
Cheyenne brought her A-game, and nearly lost her glasses. Em needed a pep talk to strengthen her tortilla slaps. LaTroya could barely contain her laughter.
Here's the final product. I want you all to know that no yard flamingos were harmed in the making of this video.
So Why Does All This Matter?
Because at RadCraft we love a good story. This one ties in some of our favorite people, with roots at one of our favorite establishments, Bonfire Brewing. And now, because we can't help ourselves, the narrative continues with its own hashtags– and stickers, too.
After receiving her scholarship, LaTroya sent us an email that read "I'm happy to be a part of the change we strive to make and couldn't thank everyone behind the Michael James Jackson Foundation enough for making this invaluable experience happen for me. I hope to someday pay it forward!"
So that, my friends, is what we're here to do. Pay it forward. We turned this silly Instagram trend and inside joke into a campaign to raise money for The Michael James Jackson Foundation for Brewing & Distilling. We hope you'll join us by purchasing Frieda stickers, for which proceeds go directly to the foundation that funds technical education and career advancement for black, indigenous, and people of color in the brewing and distilling industries.
We also hope you'll visit their website, learn more, and get involved yourselves.
Thanks to LaTroya (@asaptroya) for being an endless source of inspiration, laughter, and flamingo puns.