The Beer Tourism Planning Going on Around the Country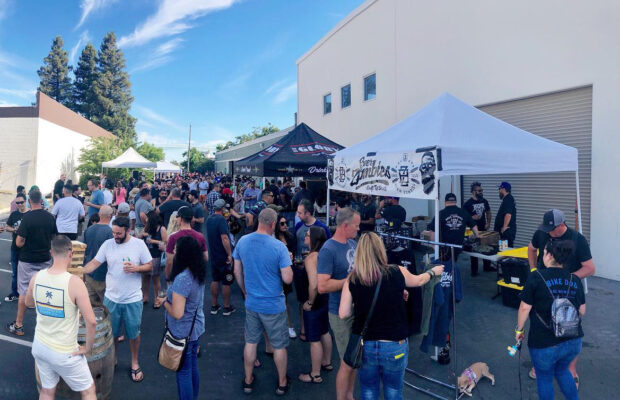 As the summer months start, breweries across the country have begun planning for what could be a much busier season than what has transpired the last two years. ​
More than just regulars, beer tourism should see a rise, so places in popular beer destinations are preparing for an influx of beer tourism once again.
Sacramento, California, though not the most walkable city, New Glory Craft Brewery explained to Brewer that they boast approximately 14.58 breweries per 100,000 people in the region.
"That prominent craft beer presence gives our brewery ample opportunity to maximize on beer tourism," the brewery staff wrote in an email. "As with many other breweries, we are happily at home in an industrial area. It is a common tale, stainless beer production vessels consume a lot of square footage and that kind of space is not often available in an urban cityscape, especially if you are brewing 40 barrels at a time.
"What we lose in opportunities for foot traffic, we make up for in open space. Not only can we host large events that require numerous vendors and live music, but we can provide that entertainment in an environment that feels safe and comfortable for a broad variety of consumers."
The brewery's beer tourism strategy is to provide an experience for guests. Instead of focusing on the drinking aspects, they are forging new pathways in a beer drinker's brain.
"It is with a consciousness of what the last two years provided that we optimistically look to the future, to continue enriching the beer community through excellent quality beer production and providing meaningful employment in our beer region," they wrote.
In Florida, Orlando's Ivanhoe Park Brewing said that utilizing a tourist website like Visit Orlando and joining in on their promotional work is helpful to the brewery as well.
"They are all working to drive as much tourism traffic as possible and I feel they have done a great job, as our airport is always at the top for overall passengers coming through," said founder and CEO Glenn Closson. "Recently, Visit Orlando did open a more affordable membership level to allow for smaller breweries/businesses to be able to join and utilize the resources they offer."
Ivanhoe Park joined at an even slightly higher level with a Dining membership, which gives the brewery more access to information such as what conferences are scheduled at the Orange County Convention Center.
"It will allow us to target those hosting the event and hopefully work out something with them to have our beer in the convention center or even at the hotel they are staying at," he explained. "We have seen success with this for iCast, a fishing equipment convention, where we actually brewed and canned a beer for Mustad who purchased all of it and had it available at their booth and was a huge hit."
New Glory also pointed out that a local beer industry should look to work together to promote each other as well.
​The same spirit rings true with ​Boulevard in Kansas City.
​The veteran brewery is the title sponsor for Boulevardia, a two-day urban street festival featuring craft beer, live music, and more​. Each year Boulevard curates the brewery lineup for Taps & Tastes, the annual beer, and food sampling event that takes place within the festival grounds. Boulevard invites more than 50 breweries from around the country each year to participate in the event providing them with an opportunity to showcase beers to a new audience and allowing festival attendees to explore a diverse lineup of beers alongside bites from local Kansas City restaurants.
Team Player Productions​, which​ puts on beer festivals like Vail Craft Beer Classic and Colorado Springs Beer Festival​,​ do​es​ as much cross-promotion as ​they can, both with breweries and other festivals in town.
​"​For instance, there's a great amphitheater – the Gerald F. Ford Amphitheater – near our Vail Craft Beer Classic venue with a concert the evening after our event​," explained TPP Events & marketing Director Kristen Slater. ​"​By cross-promoting, we hope to get people to extend their stay in Vail and make it a destination weekend. If the Town of Vail cross-promotes, then we'll reach people who might not have otherwise known about the beer festival and they'll discover new breweries they might not have known about before.​"
​Working with a state's craft beer guild is also a great way to tie into others in the guild and help promote each other.
"We surround ourselves with the things we love and in this town, we have each other's backs," the New Glory staff wrote. "We recommend other breweries, we lend/sell/trade ingredients and we are the first in line for that other brewery's next big event.
"We are doing it together and we are all better for that collaborative spirit."