Taking An Environmental Stand: The Alchemist Brewery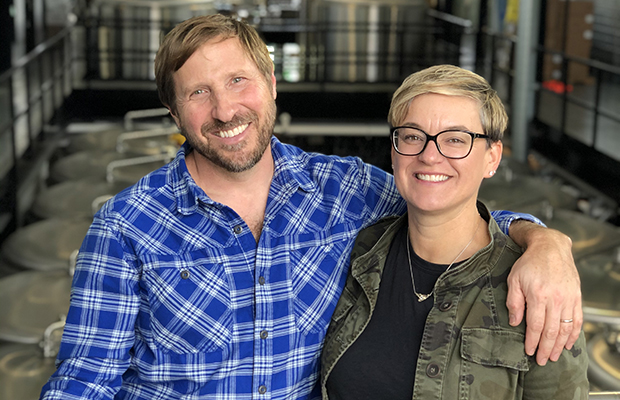 ​Once John and Jen Kimmich are finished making improvements to their wastewater system at both Alchemist Brewery locations, look for a how-to book.
Joking, but not really joking — John Kimmich said a big part of what the brewery has worked toward over the past five years is making sure that the northern Vermont brewery is as sustainable as possible and has little impact to the towns of Waterbury and Stowe's environmental concerns.
Using the brewery's cannery in Waterbury as a lab of sorts — a place to test all the processes the brewery has implemented, such as various recycling techniques for anything in the brewery's workflow — Kimmich is helping come up with new ways to make the brewing process greener.
"The way we handle our waste stream here is more efficient because we've done the work, so we're going to take what we've learned and … get going over in Stowe," he explained in the spring of 2019.
The big thing is how The Alchemist will collect its side stream waste products.
"We can't just put shit down the drain," he said.
Instead, the brewery pulls the high-strength waste out before it goes down the drain. It's been a developing process that started at the original pub with Grow Compost of Vermont. At that point, it was just a way to dispose of food waste for compost. When The Alchemist opened the cannery in 2011, there was much more brewery waste.
"We had all this liquid waste, which became an issue," Kimmich said. "It overwhelmed them and they couldn't compost it. So we had to come up with something else."
The brewery started transporting the waste to Vermont Technical College in Randolph, Vermont instead. The college has a digester that takes the waste and produces electricity for the campus through methane production using 250-gallon cubes procured by Grow Compost.
But those 250-gallon cubes would be all over the Alchemist's cannery production area, which posed a space issue.
Kimmich got inventive and took 1,000-gallon propane tanks, cut the heads off, turned them upright and put legs on them to create 900-gallon, vertical waste tanks.
"They are all tricked out with sensors and rinsers," he said. "We've put a ton of thought into it: How to empty them easily and how to clean them easily.
"So now, we fill drums. Roll the drum back and we have a pump station. If it's hot, it goes to one tank. If it's cold, it goes to the other tank. So now, when Grow Compost comes here, they don't even have to come in. They can hook up outside and suck the tank out. They open a valve, it rinses the tank and off they go."
The process will be added in the winter of 2020 to the Stowe production brewery as well, on a larger scale. But it started in the Waterbury cannery and was improved upon first.
"It's good to have that proving ground and to be able to do that here and not have to roll the dice on a big scale," Kimmich said, adding that they are looking at newer technology that is more compact than what is being used now.
"We have an eye toward 10-20 years from now so we can have this down tight," he said. "There are no books out there for breweries on this. Maybe somehow we'll get this all put into some form that is just a public record for people to use as a reference."
Both facilities produce less than 10,000 barrels per year at this time, but both brewhouses are in smaller residential communities that just don't have the proper wastewater treatment plant. Which is why the Kimmiches see this as a way to be a good environmental steward to both the community and the planet.
"For a lot of places and a lot of cities, it's not a concern," Kimmich said. "But that will end someday. Infrastructure is crumbling in this country. Things are undersized and the population grows, and people don't want more taxes to pay for infrastructure. Yet, then they complain when they can't expand their business because there's no capacity.
"There are 220 wastewater treatment facilities in the state of Vermont, and something like 210 of them are undersized. It's crazy. So we have this problem here. And if you're not doing this now — voluntarily — eventually you will be forced to do it. It's just going to have to happen. So we are very concerned about staying ahead of the curve, and we'll be the first to get it done, and then everybody else can learn from us. I'd rather do it that way than the opposite. I don't ever want to get caught with our pants down and have to scramble to do something because we're being forced to."
The end game is to get to zero waste. But Kimmich acknowledges that every little thing to get there is a whole new project.
"For example, the clear plastic wrap that comes off of pallets; the green straps that hold the cans together. The gloves we use. Anything we use … we have to find sources for it. We're just now trying to finally source a recycling option for the poly-woven bags.
"Think of all the thousands of craft breweries throwing those in landfills every day. If they are throwing them in no-sort recycling it's getting pulled and thrown in a landfill; it's not getting recycled. We've been going through different alleyways trying to find someone that can take them and turn them into something."
Alchemist is currently stockpiling its grain bags with its malt supplier until there is a full truckload. The brewery has been working with NW Solid Waste District and sending batches of the grain bags to a New Hampshire pilot system that is turning plastic into off-road diesel fuel. If and when that facility is at full operation, it will be able to process up to five tons of plastic an hour. All of the brewery's clear pallet wrap is currently being collected and recycled into outdoor synthetic decking as well.
"Hopefully, once you find someone [to use a recycling process], then you get all the Vermont brewers to do it," Kimmich said. "Then try to go to the national level, and you try to get all the breweries to do it." The biggest problem with making these dreams a reality is that nothing has been able to coalesce and have it all put together and given to the industry.
"You gotta do your own research and figure it all out," Kimmich said, "which is fine, somebody is going to do it first. But boy, once you figure it out you gotta put that shit out there. Which is what we plan on doing. You don't keep that information to yourself.
"I mean what is that? A strategic advantage? To not shit on the earth. How about we all just do that together. I won't tell you shit about how I make beer but I'll tell you everything about how we deal with our environmental footprint. And that's the way every brewery should be. Of course, you have your trade secrets, but when it's for the common good, you've gotta be kidding."
Environmental initiatives are something that John and Jen Kimmich built into their business expenses because it's important to the couple. What kickstarted the couple's desire was a catastrophic week in August of 2011. That's when Hurricane Irene wreaked havoc through the eastern seaboard, destroying the original Alchemist brewpub. It happened the same week as when The Alchemist opened the cannery.
"I wasn't even [at the cannery] for the first canning run," he said. "I was over at the brewpub, waist-deep in shit and fuel … and everything else in the basement. I was trying to deal and trying to assess what was going to happen to the beer that was there.
"Jen brought that first can of beer over to the brewpub, and we stood in the alley while the sump pump was pumping everything out of the basement. We stood there and chugged that can of beer down and she came right back over and kept on working.
"It was like this big, anticlimactic thing. Like OK, back to work. It was a weird thing. It's like something that should have been celebrated and been awesome and instead, it just got glossed over because we were in crisis mode."
It was a weird start to a whole new business plan because they stayed in crisis mode for months. On top of getting the cannery going, the Kimmiches were dealing with insurance claims and employees out of work.
Then, cans of Heady Topper — the brewery's main IPA — got out into the world.
"It just got bonkers, quick," John said, adding that it was Jen who got after him "for a while" to do something with Heady.
"We had to do something other than just the pub," he said. "She really wanted us to package Heady Topper."
They found an office space with cubicles and drop ceilings and gutted it and started building out what they called "The Cannery."
"The plan was, I was going to do all the brewing here at the pub," John recalls, "because we were only going to make two batches a week [at the cannery]. Maybe four batches a week if we got aggressive. So we're looking at it as just to be a complement to what we did at the pub.
"We would sell some of the cans out of the pub and if there was anything else, we would find someplace to sell it. And it would just be this cool little aspect of our pub."
Jen Kimmich had the vision to see that the brewpub needed to evolve as a business and that there was a need for them to be in both the marketplace and the pub.
"We couldn't have asked for more fortuitous timing to have had the forethought to do that and to have it open and ready literally in the nick of time," John Kimmich said. "I mean who knows where would we be right now had that not happened."
Jen Kimmich said they knew all of their eggs were in one basket.
"Business is fragile. It's good to diversify a little," she said. "We were really lucky to have that canning line going."
After the hurricane, the brewery planned to open the pub in the same location. But, over the course of gutting it and dealing with insurance in the fall of 2011, a couple of things happened. The Kimmiches found out since FEMA had come in to give relief to the whole town of Waterbury, the brewpub was now in a specially-designated flood zone, so new construction with a basement wasn't allowed.
"We had a basement brewery, so we couldn't even do construction in the basement," she said. "Secondly, there was no way in hell any bank was going to give us a loan to do that after the flood, and we couldn't get insurance to go back into that building as a brewery. So all of those things were working against us."
When The Alchemist announced that it couldn't reopen the brewpub and instead would just have a small tasting room at the cannery location, Jen Kimmich said they took a beating from public comments.
"There were a lot of local people that were really supportive, but people were just so really tough on us on social media, telling us we were greedy," she said. "We didn't care about anyone but ourselves … all these crazy things and there was no messaging we could do to change it. People were downright mad at us.
"We just did what we always do, and we put our head down and our locals and regulars were amazing. Thank God. We were able to tune out all that other stuff."
In that time of havoc, that's when The Alchemist doubled down and increased production, from 1,500 barrels to 600% more and now operating at 9,000 barrels per year from the cannery by 2013.
But why? Because Jen and John had employees from the brewpub that needed jobs, and they felt it was their responsibility to get those people they trusted so much of their business to, to get back to work as well.
"We had 22 employees who had lost their jobs (at the pub) and we had all this money toward trying to gut and renovate the pub space," Jen said. "So the week following the flood, our banker, Justin, explained to us about VEDA (Vermont Economic Development Authority). They were offering emergency loans for businesses that have been hurt by the flood. We applied for that $100,000 loan.
"They were meant to cover your expenses until the insurance money came in. That money came in right away. But the bills hadn't started rolling in yet from the flood clean up, they were going to come really soon — in a week or two. We made a really bold move and we used the $100,000 to order tanks from GW Kent and they were shipped and delivered in three days."
That enabled The Alchemist to double production immediately and three and a half weeks later, they were selling the beer made from that gamble to bring in twice as much income and they were able to hire about six more staff.
"That was kind of what we did for two years, just kept adding as much capacity as we could," she said. "We're putting second mortgages on our home to do this. Just doing everything as quickly as we could."
From the start it has always been the two Kimmiches. That is still the management structure and financial side of things, starting with the brewpub, to the cannery and now the 9,000-barrel production facility in Stowe.
"That takes an incredible amount of patience and foresight for a long-view goal," John said. "Not everybody has that in them. There are a lot of businesses that take on 10 investors because they're just not patient, they don't want to take that path. They want to have it all now, but you pay the price for that later. You have 10 people that are pulling out of those profits. But what about down years? Are those 10 people going to say, 'Oh we'll collectively take less.' … "We face none of that pressure. Nobody telling us what to do. We do it the way we want to do it."
And those profits go back into the people that were patient with them, which includes many employees that have been with the brewery since the brewpub days.
"We ran just the restaurant for eight years. We made barely any money," she said. "Between the two of us, we probably took home $70-80,000 a year. But it was fine. We were used to being broke and it was successful."
The Kimmiches have worked hard to professionalize as many positions as they could. The brewpub's hostess, dishwashers and prep cooks were all on salary with paid time off and some health insurance.
"We always have treated our employees with respect and offered as much as we could," Jen said. "And a lot of them are still with us. So while we have been patient over the last 16 years, they have been patient too, and now they have great benefits."
That includes a 100% matching on 401(k), with insurance and maternity and paternity leave. They offer fitness classes and a wellness program along with kitchens stocked with organic and healthy food.
"No one has to stress over having to be late for work if they didn't make lunch," John said. "We take that stress out of people's lives. We take that expense out of their life and that responsibility and from our point of view, it pays dividends for us because everybody's eating healthy and everyone's staying fit and strong and we have less time missed because of injury or stuff like that."
So although the Kimmiches have always had the "treat people and the planet right" mantra, the hurricane sort of refocused efforts on developing all of its environmental initiatives.
"A lot of it was thrust upon us because we didn't even know about this stuff," John admitted. When they ran the pub, they didn't have any state permits for waste discharge. Everything just went down the drain and nobody ever told them they couldn't.
"It was just like, 'Oh, of course, you put it down the drain,' " he said. "So when we opened [the cannery], and this is post-Irene … all of a sudden they had much higher strength waste in their facility down there and they tried to figure where's it coming from. Of course, it's us and we started working with the state to know what we could do."
In Stowe, The Alchemist has a direct-discharge permit, which is the waste that goes to the town municipal system. It also has an indirect-discharge permit, which is the side stream that goes out the back door and is collected by Grow Compost.
The limit for direct-discharge in Waterbury is 65 pounds of BOD (biological oxygen demand) per day. Through side streaming, The Alchemist is generally in that 20-30 pounds per day, Kimmich said.
"We're well within our limits, but we recognize that we're still putting this in," he said. "This is significant. We should do something, and we can do something."
The Stowe facility has double-walled stainless steel drains with leak detectors. Since the building is within the boundary of the town aquifer, the brewery is held to a higher standard for waste, even though it has a relatively benign waste stream.
"We're held to a very high standard because the potential is big," Kimmich said.
In Stowe, the brewery's BOD limit 11 pounds a day.
"It's a number we had never hit with side streaming," Kimmich said. "So we could not discharge a side stream strength waste until we got [the new system] up and running. We consistently put out less than one half of one pound of waste per day — less than a three-bedroom household — on 180 barrels a week."
The drains, instead of going right to the city's system, go to two 5,000-gallon tanks buried in the front yard of the brewery.
The first tank is a settling tank, where solids will settle at the bottom. The second tank is the pumping tank. The pump from that tank at a five-gallon/minute rate 24 hours a day to the brewery's reactor helps break down the waste. They skim the high-strength sludge into drums and Grow Compost can take it away.
The growth of the brewery has also helped Grow Compost grow.
"They were able to afford a brand new septic pumper truck that had never been used for septic. It's specifically for brewery waste," John Kimmich said. "They come and pump all of this stuff and they take it to the Vermont Technical College.
"That ripple effect… it's so much more than beer. I mean of course it's beer, it's what makes it all possible. But my God, that is just a fraction of our interests and our focus. The things that are orbiting around are multi-faceted. Grow Compost is in an excellent position now for 2022 when food composting is mandated in the state.
"They are a part of that infrastructure that's going to be needed when that triggers. And it's so cool to get to see them grow and thrive. In our work, we are doing our own thing, but when they connect it together, they kind of pull up with you."
The brewery continues to find more ways to innovate and be sustainable with solar panels added to the parking lot of the production facility in Stowe in late 2018. Those arrays give the brewery about 50 percent of its power needed.
Photography By: Danielle Visco/Luv Lens