Being Supportive, Not Exploitative, in Pride Month Campaign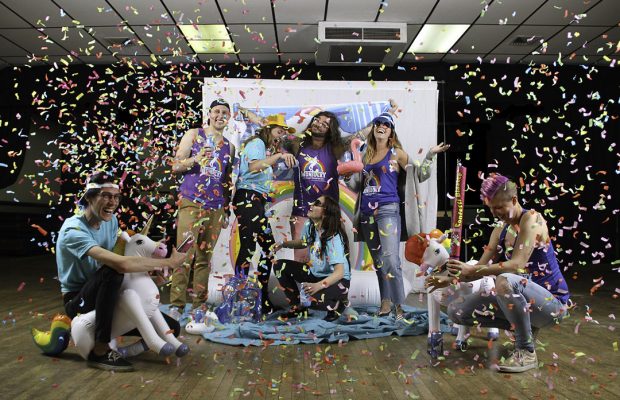 To celebrate June's Pride Month, some breweries are showing their support for the LGBTQ+ community. Some put out rainbow flags out for Pride Month, while others are taking it a step further, releasing LGBTQ+ products and donating proceeds to LGTBQ+ causes.
Dan Weitz, Director of Sales for Boulder Beer Company, said the cause is personal to him, and he got the idea to make a beer for Pride Month from his 26-year-old son. Boulder already supports hundreds of causes, so Weitz's son asked why the company hadn't done anything for the LGBTQ+ community yet.
So, Weitz pulled the trigger on a project, and the Colorado brewery recently announced its Gender Fluid Lager, sold in 35 states, available both on draft and in six-pack cans.
"Boulder Beer Company was first out of the gate with Craft Beer in 1979," Weitz said. "Gender Fluid Lager is consistent with our history of innovation and taking bold new steps."
The brewery is donating 10% of Gender Fluid Lager proceeds to the Human Rights Campaign.
"It would be nice to be able to donate locally to wherever it's sold because that money goes a little farther, and it's got a direct effect on people, but because we're in so many states we wanted to do a national charity," Weitz said.
He added that communication was important with the LGBTQ+ community in creating, distributing, and marketing the beer. He wanted to be supportive without being exploitative.
"It was important to us to be inclusive in this whole process," Weitz said. "I reached out to a couple of places, and we ended up working with the Denver Queer Business Alliance."
When visiting liquor stores along the parade route, Weitz ran into a member of the LGBTQ+ community at one of the bigger stores.
"She said, 'Let me talk to my friends,' and they got back to me and had legit criticisms of what we were trying to do and how we were doing it," he said, "and we learned a lot from her."
He also ran the idea by Brianna Titone, elected last year as Colorado's first openly transgender state legislator.
Boulder Beer chose to do a Lager at 5% ABV because "it's easy to drink and everyone likes it," Weitz said.
"It was a challenge to step outside my Boulder Bubble and run into distributors and a few retailers who didn't want to make waves with those customers that haven't come around yet on Equality," he added, but the brewery has shipped out about 14 times the initial projection in the second week of June.
"It's been very well received in the markets where it's been made available.  I think next year's edition will reflect greater acceptance once distributors have a track record to run on, Weitz said.
During the year, Montucky Cold Snacks also supports various charities, which include LGBTQ+ causes, but during Pride Month, it's given a special focus. Since its founding, Montucky gives back a minimum of 8% of proceeds to charity, and in June, that goes to LGBTQ+ causes.
Based out of Montana, Montucky — a contract brewer — has its colorful limited-edition Pride cans out for the fourth year in a row for Pride Month.
During the initial conception of the Pride can, Todd Brandes, Vice President of Marketing, said, "Somebody reached out and said, 'the horse on your can looks like it would make an awesome unicorn,' so [Montucky] started playing around with the design of the can and came up with the current Pride can."
Before entering a new market, Montucky begins by having conversations with charities in the area, so that when the cans come to the area, Montucky can hit the ground running. The profits from each area are given back to local causes.
"What's sold in Denver goes back to Denver charities, what's sold in Seattle goes back, and what's sold in Portland goes back," said Jeff Courteau, Head of Sales for Montucky. "In every one of our markets, we really localize it and make sure that the smaller guys that might get overlooked get the benefit."
Montucky is on track to sell 120% more Pride cans than it did last year.
"Everybody seems to love it and it's just become a cornerstone of what we're doing right," Brandes said.
"The only thing we'd probably do differently is just bigger, better and more support, depth and breadth for the program," he added. "We're not seeing any negativity in the market, the charities love it, our drinkers love it and we love doing it."
For Double Mountain Brewery, the same reason it practices sustainability is the same reason it supports the LGBTQ+ community.
"Partnering with Basic Rights Oregon helping fund their advocacy and justice campaigns is just the right thing to do," said owner and brewmaster Matt Swihart.
Basic Rights Oregon is an American nonprofit LGBT rights organization based in Portland, with a mission to "ensure that all lesbian, gay, bisexual, transgender and queer Oregonians experience equality," according to its website.
Marketing Director Hames Ellerbe said the decision to partner with Basic Rights Oregon was the logical choice after speaking with the manager of Queer Horror at the Hollywood Theatre; the artist of the cans and a regular at the brewery, Mark Nilsson (a member of the LGBTQ+ community); and a knowledgable sales rep for Double Mountain.
The brewery is collaborating with Basic Rights Oregon to host a series of events around Portland to promote inclusivity and awareness and maximize awareness for the LGBTQ+ community.
"Doing this allows for a broad audience to gain further education on diversity and inclusion and the mission of Basic Rights Oregon, while enjoying a great IPA made specifically in support of the community and cause," Ellerbe said.
In support of diversity and inclusion, Swihart created Basic Rights IPA with diverse ingredients.
"Reception from the LGTBQ+ community has been incredible," Ellerbe said. "Basic Rights Oregon is very pleased with our effort, enthusiasm, and support for their mission and organization."
As for the future of the beer, Ellerbe says the brewery will probably expand production of Basic Rights IPA and "encourage more locations and businesses to participate with this in support of Basic Rights Oregon and the LGTBQ+ community," he said.
The idea and beer have been so well received, in fact, that other breweries and bars are joining Double Mountain's donation program to Basic Rights Oregon.