The Support Old Nation Demands from its Distributors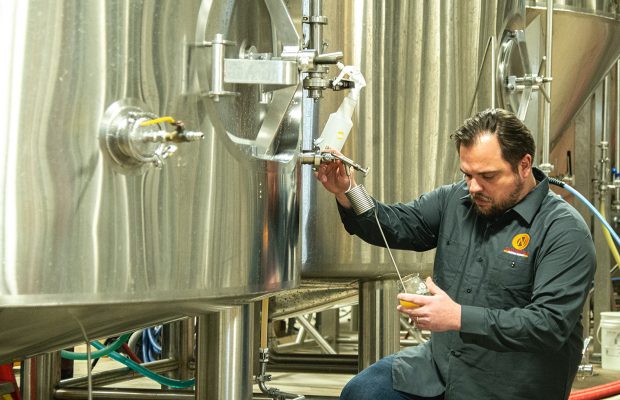 ​Travis ​Fritts has done distribution ​for his Michigan brewery, Old Nation, ​on his terms ​and ​the way he wants to do it​.
Fritts told Brewer during an interview for the January/February cover story that he feels more breweries need to understand they have leverage in that area.
​"They​ …​ need to understand that better​," said Fritts, who founded Old Nation near Lansing, Michigan with his partners in 2015​​ after years of working as a production brewer at other breweries​.​ "Building a relationship with a distributor can be tricky, but stand up​. Stand your ground for what you believe in.
"I started trying to get to where I could build a brewery near Lansing where I grew up that made production beer for Michigan, at least since 2002​. ​There's no chance I'm letting this go. And there's no chance I'm letting anybody walk on us so that they can make their quarterly numbers.​"
​Fritts said they will get ​flak from distributors all the time.
​"​'We need to make our numbers this month and you need to help us,' they say. 'I would love to sell more beer. How are we going to do that,' I ask? They say, 20 case drops in every store you're in​," Fritts said​. ​"​Nope. I can't have this New England IPA on the floor warm just sitting there. We're asking people to pay $14 a four pack for this. You want to sell them horseshit so you can make your month? No. And that's so hard because distributors will tell you: If you don't support us, we're not going to support you.
​"​So what you gotta do is go to the people that buy the beer, and let them know what the beer is. That it's good and that you care, and then hope that the distributor is not going to not sell it. They're not going to shoot themselves in the foot, just because you're not playing their kind of baseball. And that's how we built this brewery was by doing that because I've been doing this for a really long time. So when the distributor looked at me and said, I'm not going to support you if you don't support me. I said bull."
​Old Nation's biggest beer by production volume is M-43, a New England IPA.​ Fritts admits they could cut more corners to make it more cost-effective, or lower the price in the market, or even make it shelf-stable for six months. He knows he has the technical aspects down for such work, but it would alter the beer too much.
"Frankly, I can't do that," he said, stressing the beer needs to stay cold and drank fresh. "If we made the effort to do it [differently], then we would be making a product that is fine. And not as good as M​-​43."
Demand continues even during a pandemic year like 2020 has been. Although taproom sales are gone — the brewery indefinitely closed the space in the spring of 2020 and will be very conservative on when it plans to open that aspect again — sales continue to climb after a small drop off.
Read more about Fritts and Old Nation in the January/February 2021 issue of Brewer Magazine