Summit Releases Nialas NA Brands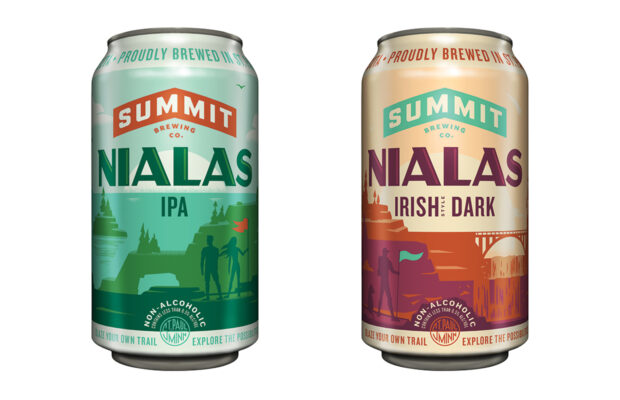 Summit Brewing Co. announces the release of Nialas (pronounced nee-uh-lis) non-alcoholic beer. After 3 years of development, Summit has created a non-alcoholic beer line that is brewed specifically to retain the complexity, depth, and character that the brewery has been known for in its 36 years of operation.
Brewed to be enjoyed by any lifestyle for any occasion, Nialas non-alcoholic is a full-flavored beer that will give the consumer the same experience as drinking a regular beer with the benefit of less than 0.5% alcohol by volume. That means you are ready to set off on your next adventure at peak performance no matter what.  
Nialas will initially be offered in two styles — IPA and Irish-Style Dark. Nialas Non-Alcoholic IPA is a classic hop-forward India Pale Ale, this NA beer boasts flavors of toast and English biscuits with aromas of apricot, tangerine and mixed berries. Nialas Irish-Style Dark reflects a stout-style with big flavors of espresso, chocolate and caramel, balanced by spicy hop characteristics.  
As a nod to Summit's Chief Brewing Officer and resident Irish bloke, Damian McConn, the name Nialas means zero or nothing in Irish Gaelic to represent the non-alcoholic aspect of the brew. Creating this brand has been a tedious process but one that McConn was excited to tackle, embrace and ultimately succeed at, noting that this has been one of the "toughest projects of [his] career."
Rather than brewing a regular beer and then stripping out the alcohol through reverse osmosis or vacuum distillation, Nialas is brewed with purpose to not include alcohol throughout the process and retain the flavor and body properties of a regular beer. A process like that takes a lot of experimentation and discipline at every step, often resulting in taking steps back to ensure the end result is the best non-alcoholic beer Summit can deliver.
Not only does Nialas expand Summit Brewing's portfolio, it extends the brand's reach to the consumer market as Brandon Bland, Director of Sales, explains, "Nialas gives us the opportunity to enter an entirely new category for the brewery and reach a consumer base that has historically not been able to enjoy a Summit product." Summit has taken the time to enter the non-alcoholic market intentionally with a beer that extends the Summit brewing philosophy of creating great beer through quality ingredients, traditional brewing techniques and innovation to deliver a terrific tasting beer.
Additionally, the drinking landscape is changing, and consumers are introducing non-alcoholic beers into their routines for a variety of reasons.
"Whether people drink beer, are cutting back or eliminating it altogether, Nialas can be a part of bringing folks together around shared experiences while enjoying a great Summit beer," said Marcy Vail, Director of Marketing. "At Summit we want to offer consumers a non-alcoholic option that still has the traits of a traditional beer and Nialas does just that."  
Both Nialas IPA and Nialas Irish-Style Dark are available in 6-packs of 12oz cans at select liquor stores throughout Summit's distribution territory. Find Summit Nialas varieties, or any Summit products, near you using our online beer finder.  
Nialas Non-Alcoholic IPA
Alcohol by Volume <0.5%
Color: Gold (6 L)
Hops Utilized: Imported
Malts Utilized: Domestic and Imported Malt Blend
Yeast: Ale  
Nialas Non-Alcoholic Irish-Style Dark
Alcohol by Volume: <0.5%
Color: Straw (3 L)
Hops Utilized: Domestic
Malts Utilized: Domestic and Imported Malt Blend
Yeast: Ale