Eddyline, Lone Tree Go Beyond Treeline To Produce New Canned IPA
Eddyline Brewery and Lone Tree Brewing are proud to premier their new Beyond Treeline IPA, born out of the relationship between the two brewery sales teams.
Eddyline and Lone Tree have long shared a distribution house, Western Distributing, and high-fived at events all over the Front Range and the Arkansas Valley of Colorado. The 2022 Colorado Brewers Guild Collaboration Festival gave them a reason to make a beer together— and to go beyond the horizon. Beyond Treeline is a bold, experimental Double IPA made with a lot of passion for the Colorado beer community.
Hopped with Mandarina Bavaria, and two experimental hops from Hop Breeding Company– Talus™ and the fresh hybrid HBC 586— Beyond Treeline is quenching, with fruit-forward hop aroma, low bitterness, and a soft mouthfeel. Huge peach and stone fruit on the nose meet tropical flavors like guava, pineapple, and coconut in this innovative IPA, all balanced out by subtle oak and herbal notes on the finish. Its beautiful orange, slightly hazy hue is reminiscent of sunset casting on treeline.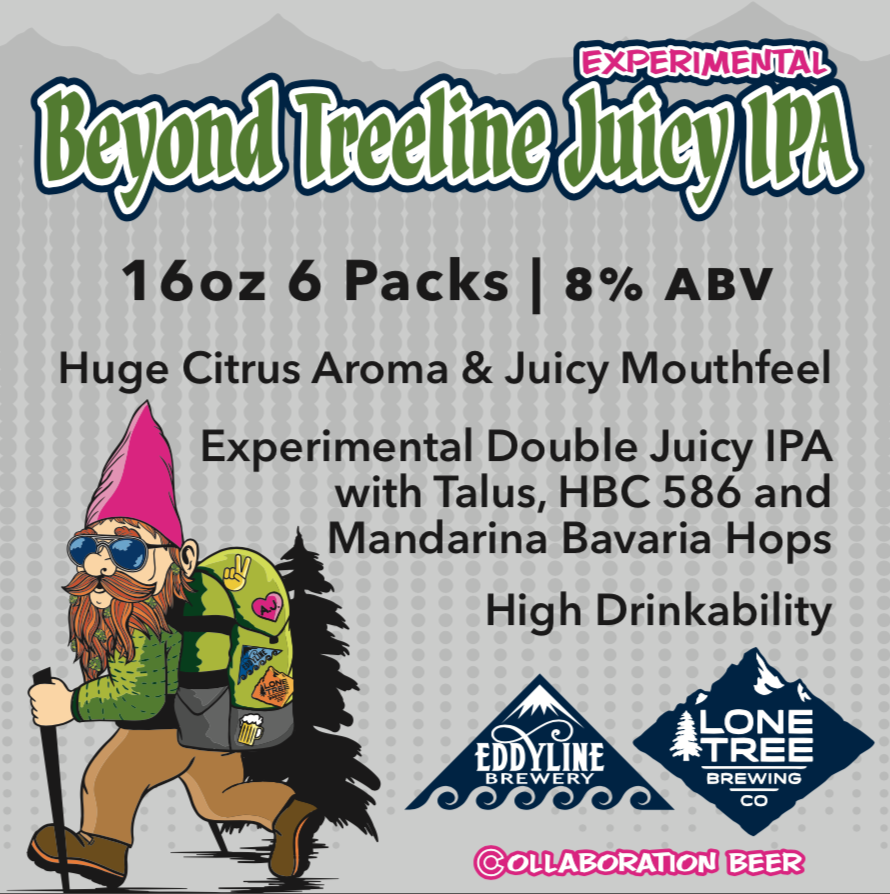 Beyond Treeline will debut in cans across Colorado in April with artwork that features Lone Tree's signature tree design and Eddyline's hop-bearded can character, who's sporting backpack stickers for each brewery and a special heart for Colorado craft beer legend Andy Jessen.
Find Beyond Treeline in 16 oz. 6-packs wherever you buy Eddyline and Lone Tree beers in Colorado, and on tap at Eddyline's tasting rooms in Buena Vista, and Lone Tree Brewing Co. while supplies last.