Pink Boots Society Members Gear Up for Gose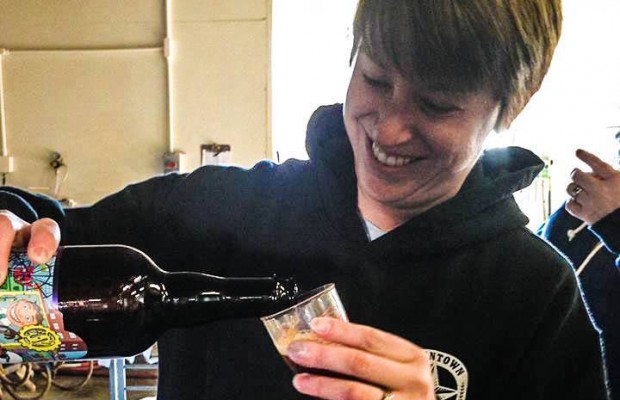 The Pink Boots are back to work.
This weekend, in honor of International Women's Collaboration Brew Day, ladies from all over the country are gathering at breweries for camaraderie and brewing a Gose as a part of 2016's Big Boots Brew Day.
"I think this event is a way to get a group of women in a brewery working together to make a beer that we can enjoy and then it opens the door for us to talk about how brewing a beer is not about gender it is about our passion and interest in the craft," said Saw Works Brewing's Jordan Skeen.
The Knoxville, Tennessee brewery held its brew day on Feb. 28 because of conflicts this coming weekend and opted to brew a Saison. Skeen and Jen Parker led an eight-woman team to brew the beer. All beers brewed for this event nationally will be sold as a part of the fund raising efforts for the Pink Boots Society.
In Wyoming, Snake River's Rocky Rabjohns will be leading a three-woman team this weekend and she said there will be numerous others to stop by to watch, learn and give moral support.
Rabjohns is a brewer and runs the quality control lab at the Jackson Hole facility.
A member of PBS since May, 2014, Rabjohns — who has worked in the industry for four and a half years  —  says it's an important group for women because they support, empower and educate women who work in a male dominated industry.
"This event gives women who don't normally brew a chance to look behind the scenes and be part of creating a beer," she said. "They all learn about the process, the ingredients, and even the history. It also empowers women to go out and talk about the beer they brewed, to share what they learned, and to inspire others to learn."
Kevin Hanson of Hogback Mountain Brewing in Bristol, Vermont is hosting a session this weekend and on March 19 as well, making two styles of Gose.
This weekend, he will be brewing on his 1.5 barrel system with his wife, Patty, and two nieces. They will make a Gose with blood oranges. Later, his youngest daughter will join him on a brew day and they will make the same Gose but with cherry additions.
"We will be bottling and kegging under our Carriage Barn Series of limited releases as a Pink Boots Gose," he said.
Skeen said she's only been a member of PBS for a few months, but jumped at the chance to be a part of this event.
"The [Knoxville] chapter had kind of fallen by the side and the chapter head actually had moved away a few years back," Skeen said, who began working in the craft beer industry a year and a half ago. "I recently took control of the chapter and am just now getting the group really running again.
"I wanted to be a part of the group because this group seeks to connect women in the industry and two of their goals are to help charity and further the beer education of women, which are things I am also passionate about."