Narragansett Beer Back In Rhode Island With First New Release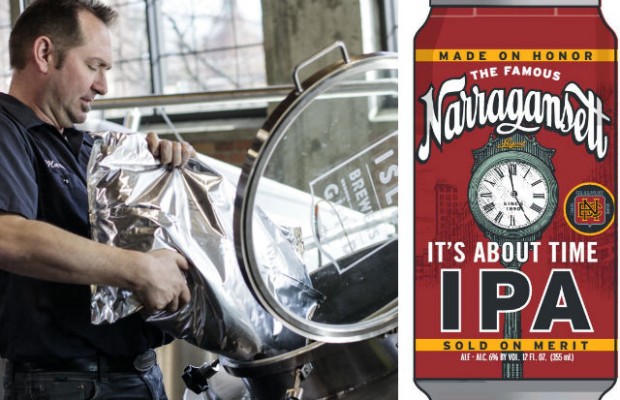 With great pride, Narragansett Beer announced Wednesday the release of "It's About Time" IPA. This is the first beer produced at the new Narragansett Brewery located at The Guild, and self-deprecatingly named after 'Gansett's long journey to return brewing operations to the Ocean State.
Throughout its storied history since first opening in 1890, Narragansett has seen tremendous highs and lows. The brewery survived Prohibition by brewing porter for medicinal purposes, served as the official beer of the Boston Red Sox for 30 years and held a 65% market share in New England at its peak in 1965. However, Narragansett was soon sold to Falstaff Brewing Company and production moved to Indiana where the beer's quality and reputation began to slip. By the mid-1980s, Narragansett sales had waned considerably and the original Cranston, R.I. brewery was demolished shortly thereafter, leaving 'Gansett all but dead.
In 2005, the brand was revived by native Rhode Islanders who believed in the Narragansett name and heritage. Over the past 12 years under the direction of President Mark Hellendrung, 'Gansett has rebuilt its reputation of being Made on Honor, bringing quality beer to drinkers throughout New England and beyond. This year, the natural next step of returning brewing to the Ocean State has at last been achieved.
"Years ago, we asked 'Gansett drinkers to 'drink their part' in helping to build a brewery in Rhode Island and now, after countless setbacks, we're finally doing it at The Guild in Pawtucket, R.I.," said Hellendrung. "This beer is our way of saying 'thanks' for the unwavering support loyal 'Gansett fans have had over the years, and it represents what we're all thinking about the journey—It's About Time!"
An American IPA that celebrates the changes that time brings, It's About Time IPA mixes the classic and complex malt character of pioneering IPAs by using Pale, Caramunich and Wheat malts with the modern hop profiles of Cascade and Citra hops. Pouring a rich, copper red color, the 6% ABV and 50 IBU beer drinks with notes of caramel, toffee, raisin and bread and is balanced with a hit of fresh floral and tropical aromas. Fittingly, the can artwork features an image of Providence's iconic Shepard's Clock with hands at 4:59PM, the long awaited moment before it's acceptable to crack open a 5 o'clock brew.
It's About Time IPA is a "locals only" release available on draft and in cans throughout Rhode Island, eastern and central Massachusetts and Connecticut. The beer will also be on tap at Narragansett Brewery at The Guild brew house and has a retail price is $9.99 per six pack of 12-ounce cans.
Starting in April, 'Gansett fans can visit the Narragansett Brewery at the Guild to enjoy fresh beer on draft in the facility's brew house. Narragansett Brewery at The Guild will continue to expand in the coming years with the addition of the formal taproom and the 1890 Room, which will showcase Narragansett history and memorabilia.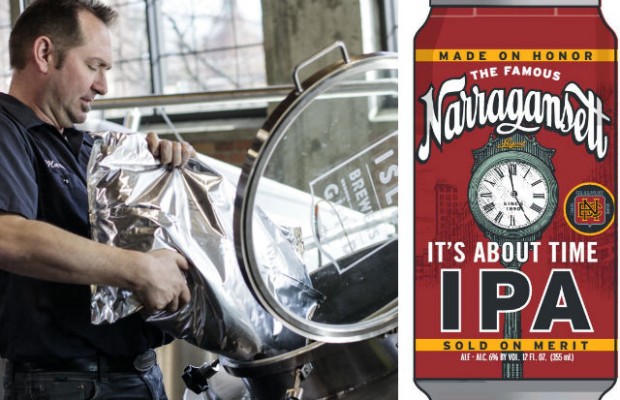 Send new beer release or brewery news to Jon@TheBrewerMagazine.com.