Innovation Ahead! Matt Cole & Chris Allmont Don't Fear Fat Head's Hop Experiments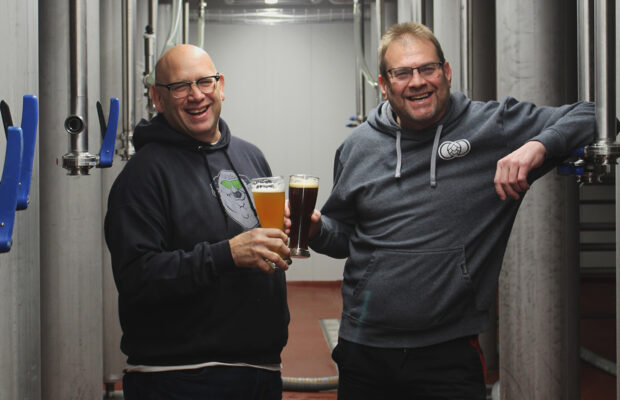 Experimentation and innovation are always on the mind of Matt Cole and Chris Allmont. The veteran duo that leads Fat Head's Brewery's day-to-day operations in metro Cleveland feels that innovation can come from more than just adjuncts nowadays, which is sometimes the de facto idea for many craft breweries in the country.
Instead, finding new ways to push hops is on the mind of the Fat Head's team.
Recently, the brewery has been running trials using a new hop innovation called Simcoe Bomb. Cole explained that they're able to isolate the iso-alpha from the plant matter so that you can extract all the essential oils and flavor.
"Then all alpha then can be used just for bittering," he said. "They're able to selectively dissect the hop, so to speak."
In a trial, they brewed a regular Head Hunter — the brewery's award-winning West Coast IPA — with the regular hopping schedule, and then a second batch they added Simcoe Bomb.
"Our team was kind of torn and they actually liked the Simcoe Bomb better," Cole said. "It cleans up, it makes it less vegetal, and really gives it a really bright hop character, but it seemed to fade a little bit.
"With the lack of polyphenol, it seemed to fade a little bit as the beer got a little age on it, but really clean, super clean. So those are things that we've been doing."
Fat Head's was one of the first to work with cryo hops, teaming with Three Floyds on the beer Confidentiality and Disclosure to be released for CBC 2016 in Philadelphia.
They also recently sponsored tracts of land to test a new hop, HBC 637, which was used in a Hazy IPA released for the holidays.
"We've never been a big fan of New Zealand-style hops," he said. "We basically purchased an entire field that we think is going to be an up-and-coming varietal. So that's an interesting kind of angle where we go to the hop fields, and we literally walk through the trial fields and try to find out what the best new hot varietal we think it's gonna work and work for our beers."
Fat Head's ended up having about 80% of the HBC 637 harvest and used it as a dry hop for Happy Holihaze.
"The first two years, honestly, the rootstock didn't take great," Cole said. "It was harvested, and not in the right window, and we ended up with a couple 1,000 pounds of hops, and we weren't really very stoked about it. Then year two, it got better, but it still didn't translate into something really fantastic.
"Year three, all of a sudden, we got the spider chart on the oils and the acids and it was off the chart, all the citrus, melon, mango, passionfruit, and pineapple. The alphas are good. Then we brew with it, and it's pretty cool, man. We extended our contract with it and if it continues to develop, then maybe it'll get more acreage. Maybe it'll get a name one day. But that's kind of what we're trying to do. I won't say it's cutting edge, but we're trying to read to have an impact."
Fat Head's is trying to find a way to not make all their beers taste the same.
"We're trying to find those little bits of nuances from different flavors from various varietals," Cole said.
He added that they get these new ideas from asking their suppliers to push the limits.
"We challenged them. We've been using some other products from other suppliers and we ask our supplier, why don't you try to make something like this," he said. "They come out with their version of it. We've always been kind of a little bit of a test brewery for YCH. We keep them honest because they see us diversifying our contracts more and more. We're buying from other people, and I'm not afraid to let him know that because they need to be competitive. And a lot of that will help our price, it'll help our selection process.
"Our goal is to obviously get yields up and navigate through all this plant matter with our hopping rates."
All of this is pushing boundaries in familiar territories, yet Fat Head's production still uses about 22% of its hops in whole-leaf form.
"That makes our brewery a little bit different," Cole said with a chuckle. "I mean, I can rattle off the ones that have whole leaf. Obviously, more than I can tell you who doesn't."
Contracting those whole cone hops has become more important over the past decade, adding some Sultana on contract and Chinook while focusing on the "holy trinity" of Simcoe, Citra and Mosaic as well.
"We're gonna start buying from a hop farm called Segal Ranch, which they're really known for the 'C' hops," Cole said. "We might bring back some Centennial that we kind of abandoned years ago, and maybe some Cascade and definitely go heavier on Chinook."
Planning hop contracts is important, which is not how it started when the brewery launched in 2009. In 2012, Fat Head's added a production brewery and started with Tröegs BrauKon stainless brewhouse. Because of the popularity of HopBack Amber from the Pennsylvania brewery, a 3.5-barrel hopback was included, which helped launch a litany of hoppy-based beers for the next decade-plus for Fat Head's.
Alltmont recalled needing to get a hold of Victory for a few bales of whole leaf hops to help get things started.
"Yeah, we were running around trying to find whole leaf because we didn't have any contracted," he said. "Then there's a point where we switched pretty much all of our hoppy beers to final additions of whole leaf. Whole flower is a big part of what we've done."
The Fat Head's name dates back to 1992 with Glenn Benigni, who opened Fat Head's Saloon, a craft beer bar in Pittsburgh. Cole was a student at the University of Pittsburgh and enjoyed the beers there. Cole eventually began working as a brewer for various places and eventually wanted to open his own brewery in the mid-2000s.
"I went over to them (Benigni and his wife Michelle) to see if they would invest in our brewery, which kind of had an aviation theme because Ohio has such a rich history in it," Cole said. "I had a beer called Sky Racer IPA and things like that.
"That's when ultimately we decided that making it a Fat Head's was a better plan because they already had established stuff like a menu, some branding, and things like that."
Adding Allmont to the mix in 2011 as a partner, the brewery made around 6,000 barrels in its first year and grew by about 2,000-3,000 barrels per year. By 2018 it was running up to 30,000 barrels with room to crank it up to 120,000 at full capacity. Although that is possible, it's not the plan at this time, and being comfortable with even half of that output is fine for Cole and Allmont as they are heavily invested in being a small regional brewery first and foremost because the quality of the beer is more important that expansion beyond northeastern Ohio and western Pennsylvania.
"We've given up a lot of opportunities where we could have opened up some markets and decided let's just focus on keeping beer fresh," Allmont said.
They got into the business because they love beer and were passionate about making quality beer.
"I think a lot of people get into the business for one, it's cool. And it can be lucrative … can be. That's just the opposite of why we did," Cole said. "We look at how we want to make beer. And how we'd like to drink it. And then we tried to figure out how to make it profitable.
"It's probably the most ass-backward business model you could ever have, but it got us where we are today because people have appreciated our passion and drive for what we're trying to accomplish."
Cole is the "fireman" all around and deals with administrative and marketing while Allmont heads up operations.
"I enjoy building the recipe. I enjoy naming them, I enjoy the artwork, coming up with all the creative fun stuff," Cole said, adding that Fat Head's is slowly making some branding changes to cans in 2023 with a full re-brand planned for 2024. "I like to watch that evolve. It's really, really great when it gets great feedback."
Changes like that and needing the economy of scale for production means it's very hard to be a mid-size brewery anymore.
"You have to have something either very special, amazing marketing, or I don't know how you even get there anymore," Cole said.
There are sweet spots in the business model though, Allmont said.
"Our brewhouse — without running the wheels off, 25-30 brews a week — is a nice comfortable pace, it's sustainable we're not catching phone calls at two in the morning all the time. We're not brewing on the weekends and 50,000–60,000-ish (barrels) is a comfortable pace.
"We pretty much have the toys we really need and there are some things that we like to think oh, that'd be really cool."
Switching to cans and adding a centrifuge have been two key additions as of late along with adding more technology to the expansive lab.
"Whatever investments we make, it's usually in the interest of the quality of the beer and the employees," Cole said.
The brewery boasts three brewhouse locations along with a pilot system at the production home. That means managing lots of staff that need to be on the same page and mission.
"I think that we've learned over the years, how important and how valuable that employees and team building is," Cole said. "I got into this to make beer. I didn't expect to be wearing all the different hats that I am. I'm not saying that we're the best administrative team in the world. We do enough to get it done. A lot of it is just passion and passionate people."
Cole said that they really look to make sure that they have good teams and good camaraderie between staff.
"Everyone stays passion-driven, well compensated, good health care, all those things are important now, especially now," he said. "It's hard to train people, it's hard to retain people. And it's really important for us to keep that culture."
Photos by Tyler Montgomery, Brewer Magazine