Frenz Collaboration Series: Bigger and Better Than Ever in 2023 for Bale Breaker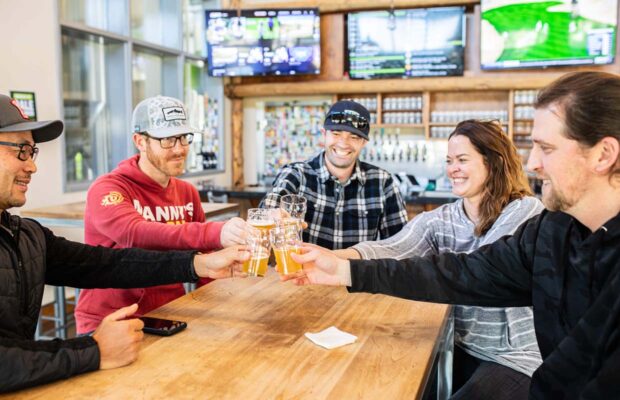 Bale Breaker Brewing Company, a family-owned brewery located in the beautiful Yakima Valley, is excited to announce the lineup for 2023's Frenz Collaboration Series. First up, releasing on February 10th, is a collaboration with long-time friends and mentors, Georgetown Brewing. 2023 is a big year for the Yakima Valley brewery: 10 years ago, they opened their doors for the first time. With a big year of releases ahead of them in their anniversary year, they knew they had to go big with their Frenz series. 2023's Frenz series is extremely special to the brewery: all three collaborations planned for 2023 will be collaborations with longtime heroes of the brand – these are the breweries that acted as mentors when Bale Breaker was first starting out, and have since grown into lifelong friendships. This year's Frenz cans will have a new look that nods to the fact that this year's partnerships feature the brewery's heroes.
The collaborations you can look forward to ahead:
Frenz with Georgetown Releasing February 10, 2023
Frenz with Sierra Nevada Releasing June 2023
Frenz with Russian River Releasing Fall 2023
The Georgetown collaboration is particularly special: back in 2016, the very first Frenz collaboration brewed was a draft-only beer made with Georgetown.
Frenz with Georgetown is releasing Friday, February 10th, at both their Yakima and Seattle taprooms, as well as receiving larger distribution throughout Washington, Oregon, and Idaho later in the month. The Seattle release party will have crew from Bale Breaker and Georgetown Brewing on site, while the Yakima release party will feature prizes from both Bale Breaker and Georgetown Brewing raffled off throughout the night. Both taprooms will have food trucks on site during the release party. To find the beer outside of the taprooms, check out Bale Breaker's online beer finder later in the month. Washington customers can also order the beer to be shipped directly to them from Bale Breaker via their online store.