DESTIHL Brewery Expands Global Exports to the United Kingdom
DESTIHL® Brewery officially announced today that it will expand its international beer exports to the United Kingdom, with a first shipment heading out this week.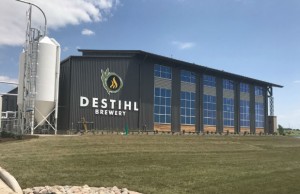 Last year, DESTIHL opened its new production facility in Normal, Illinois, which greatly expanded both its short and long-term production capabilities, allowing it to increase wholesales this year by more than 97% over last year to date. "Our brewery expansion is allowing us to grow significantly within our existing U.S. markets while also enabling us to pursue great opportunities in new U.S. and international markets which are seeking out our unique beers", said Founder, CEO and Brewmaster, Matt Potts. "We are very excited in particular to directly export and launch our beers throughout the United Kingdom via The BottleShop Limited, based in London, England."
The BottleShop, which is the U.K.'s only end-to-end refrigerated distributor and which will maintain refrigeration all the way from DESTIHL to London, believes "that beer should be treated with respect and not all beers are created equal. This has led us to curate a selection that we're really proud of and it's our pleasure to share our bottles, cans and kegs with bars, shops and restaurants all over the UK. What makes The BottleShop unique from other distributors is our commitment to freshness, our drive to push boundaries and bring everyone WorldClass beer."
Beers from DESTIHL's industry-changing WiLD SOUR SERIESTM (including Here Gose Nothin'®, SynchopathicTM, Flanders Red and Blueberry Gose) and other core beer offerings such as Weissenheimer® Hefeweizen, AmraTM Mango IPA, MoonjumperTM Milk Stout, DeadHead® IPA Series – SoundboardTM Session IPA and even its barrel-aged Saint Dekkera® Reserve Sour Ales will be the first of its beers introduced into the U.K. craft beer scene in the coming weeks.