Craft Brewers Association of Oklahoma's Advent Calendars Return for Holiday Season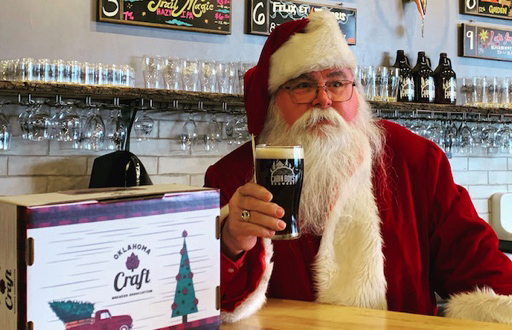 A popular event is returning to Oklahoma this holiday season as the Craft Brewers Association of Oklahoma (CBAO) returns with its annual sale of the Oklahoma craft beer advent calendars at their Hoppin' Holiday Party. Tickets to the Hoppin' Holiday party include a free advent calendar and will go on sale November 15 through December 7 or until the tickets are sold out.
"Last year we sold out quickly so I encourage anyone who wants to get their hands on tickets, to get yours fast," said CBAO Executive Director Tabbi Burwell. "We host the Hoppin' Holiday Party two nights in a row giving beer fans and holiday buyers the chance to attend in Tulsa or in Oklahoma City. Both locations feature Santa Claus and cookies, encouraging the entire family come out while picking up your advent calendar.
250 advent calendars will be filled with several styles of beer from across Oklahoma, making no advent calendar the same. 19 breweries across the state are participating by providing craft beer for the calendars including Anthem Brewing, Nothing's Left, Stonecloud Brewing, Angry Scotsman Brewing, Dead Armadillo, Bricktown Brewery, Iron Monk, COOP Ale Works, Canadian River Brewing Co., NEFF Brewing, Broke Brewing, The Big Friendly, Roughtail Brewing Co., Lively Beerworks, Crossed Timbers Brewing, Vanessa House, Prairie Artisan Ales, Welltown and Kochendorfer Brewing.
Additionally, the CBAO is working with Dale Rogers Training Center again this year to assemble the advent calendars. Dale Rogers Training Center supports people with disabilities through paid vocational training, in-house programs and work opportunities as well as competitive community employment.
Tickets will be available for purchase on craftbeerok.org/events. These boxes will remain on sale until December 7 or until they're sold out. When purchasing the ticket, buyers can pick from Tulsa or Oklahoma City in the checkout process. Pick up dates are only during the Hoppin' Holiday Party for the advent calendar and will be December 15 from 5:30pm-7:30pm at Nothing's Left Brewery in Tulsa and December 16 from 5:30pm-7:30pm at Stonecloud Brewing in Oklahoma City.
"These are the perfect gift for the holiday season and there's no better way to support local this year," said Burwell.