seam inspection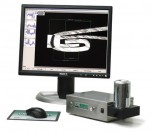 Short Business Description:
Double Seam inspection systems for breweries that are canning.
Long Business Description:
CMC-KUHNKE manufactures double seam inspection equipment for breweries that are canning. CMC-KUHNKE's double seam product line is designed to be extremely flexible – allowing you to tailor your measurement package to suit the needs, and the budget, of your organization. The SEAMview System is an affordable way to make seam measurement easier, faster, and more accurate. It may be used as a stand-alone seam scope, or combined with other gauges, saws and software to form a complete seam inspection system.