Best Tips in Utilizing Beer Garden Space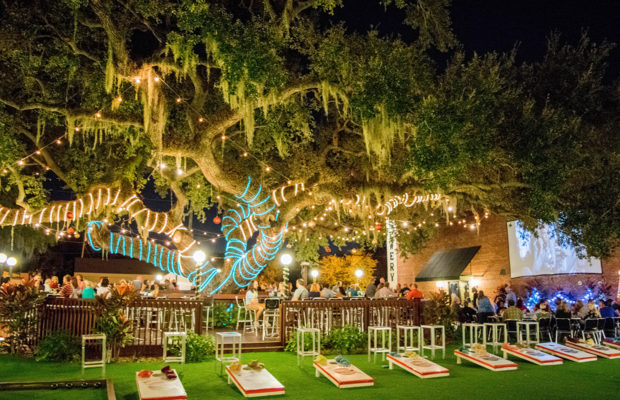 When you have it, flaunt it. Unlike urban or industrial areas that may not have the ability to create a lusher-looking beer garden, many breweries do have the luxury of green space to use to its advantage. Some have done this during the pandemic to create more space for consumers while others have boosted efforts on property that already was developed.
Betty Bollas, the president and co-owner of Fibonacci Brewing in Ohio says she and her team are fortunate to have an adjacent property next to the beer garden which is an acre with grass, mature trees, and a wooded area.
"It also has an old farmhouse that we renovated into another taproom and an Airbnb," she told Brewer. They use the half-acre in front of the property for a beer garden space.
"Last year was our first year utilizing the space as a beer garden, which we had used in the previous year for our farmers market," she said. The brewery purchased seating and added uplights on the trees last year along with adding fire pits and a small stage as well recently.
"We were able to utilize grant money for all of those things and it's already running well," she said, noting that it has been a huge draw for people who want to get out, but still have safety.
"There is a lot of grassy shaded space to spread out."
READ MORE: ​An Oasis in A Concrete Jungle: Urban Beer Garden Ideas
​For Motorworks' Bradenton, Florida facility, they were blessed with a 16,000 square foot outdoor beer garden. Motorworks' Director of Sales, Barry Elwonger, explained that the brewery has a huge stage, a 22-foot projection screen on the wall, life-size Jenga, a dozen cornhole sets, and all of it is set under a 200-year-old oak tree.
"We actually host several parties simultaneously," he said, indicating on a recent Saturday, Motorworks was able to accommodate a 250-person wedding party, a 60-person office party, and still have room for the public, all while still within COVID compliance.
"Those spaces really have been what's been able to keep our business afloat during these troubling times," he said.
Motorworks always wanted the Bradenton spot to be an event space.
"We wanted it to be a gathering center place," Elwonger said. "To do it right and to do it, how we envisioned, we didn't cut corners."
The place is turfed — which comes at a cost.
"The turf has held up for seven years going strong, and it's still in great, great shape," Elwonger said. "We really did make the investment on the front side to make sure that that was the vibe and atmosphere that we wanted."
They do employ an event coordinator to make sure that they can make sure that all of those parties are going off simultaneously.
"[That includes] staggering times and making sure that you don't have all of that drop at one time," he said. "We don't want a big 30-person party to walk in at the same time another 15 does and the bar gets behind.
"Alex, she is just paramount to making sure that all of that — the pieces on the board — get moved around so we can make sure the events are successful and that people are happy and that everyone's still safe and smiling and enjoying."
Living The Dream has a large beer garden in the back of the Colorado brewery's building. LTD's Jason Bell said they cleaned up the space and added tables.
"It backs up to a local reservoir with a view of the mountains so we definitely wanted to utilize the space," he said. "What we quickly learned was that the area gets really, really hot under the sun and people couldn't stay out there very long.
"We added shade and it really seemed to help. The next phase will be to add a dedicated bar in the beer garden as the distance from the main bar is quite large."
The outdoor space has added a large amount of socially distanced outdoor seating​ for the brewery while it has been another way customers can have a great time and feel safe as well​, Bell noted​.
Innovation Station is Innovation Brewing's second location. During the summer of 2020 Skylyr Ballew​, the Marketing & Events Director for the North Carolina brewery, said they​ extended ​its creekside seating area to accommodate restrictions.
​"​Additional seating was our main goal last year ​and​ luckily nature worked as a distraction from unfinished portions of the beer garden​," she said. ​In preparing for 2021, ​they decided to invest in this space and transform it completely.
As the season begins, ​Innovation has been working on creating an area alongside the creek that will offer ample amounts of assorted style outdoor lounge seating.
​"​This area will become heavily landscaped with beautiful natural flowers ​and​ shrubbery​," Ballew said​. ​"​We will also be building onto a separate area of the creek that can be used for private parties ​and​ includes games like cornhole​, and such.
​"​An outdoor bar will get built into our storage shipping crates ​and​ possibly even a stage for live music. We're very excited to enhance the outdoor seating experience for both safety ​and​ pleasure​."​
Photo courtesy Motorworks Brewing