How Aviator Plans to Enhance the Customer Experience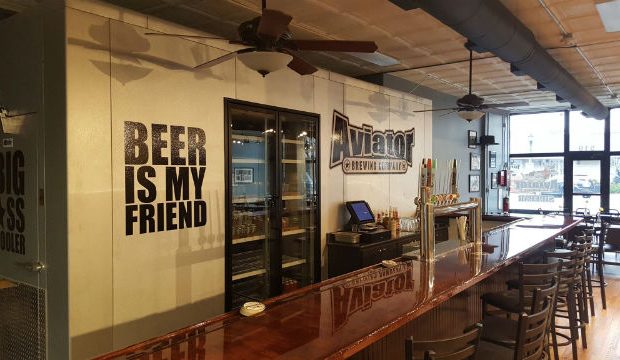 Starting in an airplane hanger is cool and all, but Mark Doble wanted to get Aviator Brewing into the public eye more since opening nearly a decade ago.
A five-acre expansion project that is set to open some time in 2019 in the downtown area of Fuquay-Varina, North Carolina is the plan, and the CEO of the Raleigh-area brewery said the plan is to settle in and be a major player in their region.
"We want to grow to about 50,000 barrels," he said about the brewery that checked in at around 16,000 in 2016 with plans to stay under the state cap of 25,000 for the time being. "[We want to be] big enough to buy cool equipment, outfit a nice lab, and pay our employees well. We want to build a prep kitchen next to the brewhouse for new and different methods and ingredients.
"We also wanted a location that was near activity, folks could come by and see what we are doing. We wanted to interact with people a bit more than the location we are in now. We haven't really changed our idea of what we want … a brewery campus."
Right now Aviator is producing beer in a 23,000 renovated warehouse. Doble said that in the last decade they have upgraded three times and "equipment is everywhere.
"Our ceiling is limited to 17-19 foot sloped roof," he said. "We can't shut down to add our new brewhouse, and we need a bigger building. Also, we have a new business idea for the building we are currently in."
The brewery has acquired the land for the expansion: five acres in the center of town with great roads in and out of the property.
"We have an architect and are in the process of designing and permitting the new building campus," Doble said.
The checklist for the new brewery is large, including continue to distill as well as brew along with two outdoor bars and a patio; a chef-driven, quick-service style restaurant, a coffee shop/bakery and a concert venue, along with having the facility entirely dehumidified and air-conditioned, especially for packaging and mold prevention.
Other amenities they have dreamt of include a mini helicopter pad for kits and drones, a skateboard park and a barrel house for liquor with a bar.
The News & Observer newspaper reported the project as costing just over $4 million and Doble said that to manage that financial burden, they have worked on creating a balance sheet and P&L statement that would support a loan from the bank.
"We are fully financed from a local bank — Fidelity Bank," he said. "Our business model is very horizontally integrated so we don't have all our eggs in one basket."
Doble noted the local mayor, town manager, and commissioners are totally on board and have offered an economic development incentive of five percent of project cost.
"There is no red tape if you hire the right folks, plan appropriately, and research your impact on the area," Doble said. "There are solutions to all problems.  Building codes, local regulations, etcetera, are not going away. We have learned to hire the right folks to help us from step one."
Building breweries is fun, he noted.
"We are very flexible and don't get too wound up about changes," Doble said. "We try to mitigate all the heavy hitters on money before starting the project so we don't hit a roadblock."
Those include water, sewer, soil compaction, plan for setbacks, and water management.
"The brewery is all about [the] customer experience," he said. "The customer needs to experience your brand rather than just see an industrial building. The best way to extend your brand culture is through entertainment, different beer experiences, food, employees, tours, merchandise, and pub bikes through town."