​An O​asis in ​A Concrete ​Jungle​: ​Urban Beer Garden Ideas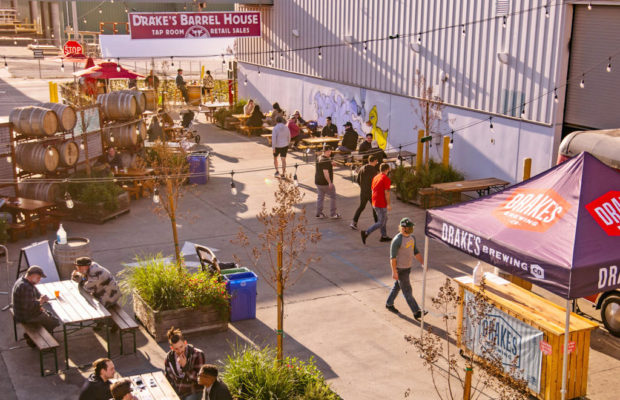 ​It's like the past has come back to us at the right time. Biergartens have been quite standard areas for many German breweries over the centuries and in some areas of the US, it was transported over years and years ago. Craft breweries, though, ​are known for populating more urban areas and creating that space — especially in an industrial park setting — can be a daunting task. Yet, it's happening and the rise of the pandemic in 2020 pushed many breweries to use whatever outdoor space available to them as a means to continue to sell draft from its taproom.
​Drake's wanted to be able to offer more outdoor space than ​co-owner John Martin said the San Leandro, California had ​ever ​before​. The use of wine and spirits barrels for ​Drake's Industrial Park beer garden walls make expansion of ​its space easily possible ​and ​Martin said they are now able to do ​its traditional big beer release events again​ and as the pandemic impact lessens​.
"We​ were able to take some space between our brewery buildings that had been used as driveway space and turn it into our brewery​'s​ "Industrial Park" beer garden​," he said.
​Indeed Brewing in Minneapolis had to do a similar thing in stealing from its parking lot to expand on its outdoor patio. Using the inside space ​and even the roof came into play as well.
"We expanded our patio into the parking lot (called The Lot) and added huge tents and beer garden tables in the summer and propane fire tables, fire pits, and heaters in the winter so that every seating area had some kind of heat source," explained Indeed Hospitality Director Lindsay Slanga, "which is a big deal when you're seating people outside in the middle of winter in Minnesota."
The Indeed staff explored many options for expansion and additional seating in the Solar Arts Building — of which the brewery's Northeast taproom and brewery occupy the first floor — including a semi-permanent to permanent buildout in the parking lot, moved seating in the main taproom and hallway, along with subleasing the third floor.
"Creating these spaces with safety in mind, without sacrificing the guest experience, was the ultimate goal," Slanga said. "We branded our reimagined taproom experience to Beerland, which offers a variety of spaces/experiences for every comfort level."
Now each space has a name, including the loading dock, which is functional by day and transformed into four lounge areas called The Den after work is done. The new "Up Top" area is a 6,700-square foot space that Indeed outfitted with spaced out tables and lounge areas with dividers between groups.
"We needed more space in order to adhere to the state and city regulations and still accommodate groups of people safely​," Slanga said. ​"​This came with an entirely new set of licensing obstacles that were challenging and time consuming.​"​
​Indeed created a beer and snacks to-go window, called Quincy Corner, which used to serve as an auxiliary taproom on the first floor, ​is now a shop for guests to buy snacks, beer, and pursue records from a local record supplier.
​Creating an outdoor space in a weather-challenged area isn't new to Seattle's Stoup Brewing either, yet co-owner Lara Zahaba is in love with what they have been able to do.​
​"​We sit in a very industrial neighborhood so there is a lot of concrete. The challenge was to create an oasis in the concrete jungle," she said. "We did that with brightly painted Adirondack chairs, bright shade sails overhead in a normal year and a lot of bamboo to soften the landscape. We also have a fire pit.​"
​The Adirondack chairs and the firepit have always been the favorite features of ​the beer garden. Also the ​brewery has a ​shipping container bar that ​they open in summer so that beer garden patrons don't have to return to the taproom for another beer​ is helpful​.
​"This year, we really excelled at providing an outdoor space that felt friendly and safe​," Zahaba said.​ "We set up ​two​-sided pods underneath a larger tent so that most guests had the safety of a wall between themselves and the next table. We also maintained several propane heaters that we could move around as tables needed them.​"​
​Stoup also added this greenhouse to the beer garden which can comfortably seat 6-8 people and is the only table that can be reserved. A portion of every reservation fee supports one of ​five​ nonprofits that the guest can choose from.
​"​This has been a very popular option for protection from the weather and because it jumps the line that can form on the weekends​," she said. "We have received a lot of compliments about how safe customers feel in our space and that has meant a lot as the safety of our staff and our customers were the drivers as we implemented the design.​"​
Slanga​ added that over this​ past year, the ​biggest​ compliment ​that indeed receives is how safe guests felt at ​"​Beerland​"​ and how seriously ​the staff is taking safety precautions.
​"​Beerland transformed our space into so many cool experiences rolled into one; we often saw groups make multiple reservations in different parts of Beerland and have different experiences with us in one day​," she said. ​"​Being able to provide a safe place for people to come and enjoy a night out felt great.​"​
​Photos courtesy Stoup Brewing & Drake's Brewing​