YCH Receives Patent Pending Status for Cryo Hops® Process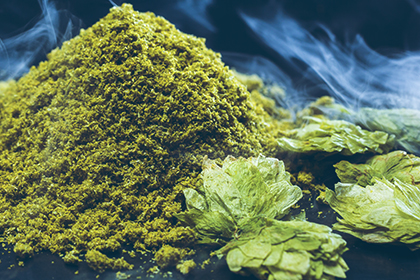 Yakima Chief – Hopunion, LLC (YCH HOPS)
has acquired patent pending status for features of its proprietary Cryo Hops® process technology used to produce the revolutionary hop products: LupuLN2® Hop Pellets and Debittered Leaf. This innovative technology is the first of its kind in the hop production industry.
YCH HOPS, one of the largest international hop suppliers, has strategically filed a patent application with the U.S. Patent and Trademark Office for its industry-leading cryogenic hop-processing technology. Using extremely low temperatures and a nitrogen-rich atmosphere, whole hop cones are separated into concentrated lupulin and low-alpha bract. This advanced technology preserves each component of the hop, avoids opportunities for oxidation and simultaneously produces two hop products that offer a variety of benefits to brewers.
The lupulin-rich fraction, available as LupuLN2® Hop Powder and LupuLN2® Hop Pellets, has already generated excitement among the brewing industry and beer drinkers alike, as it provides intense hop flavors and aroma, twice the resin content of traditional hop pellets, reduced vegetal flavor contribution as well as cost savings and increased yield. Brewers have reported that it noticeably enhances hop aroma and also noted an average three to five percent increase in brewery yields.
"LupuLN2® Hop Pellets have been well received because it gives brewers a new tool to create amazing hop forward beers," says Karl Vanevenhoven, Senior VP of Operations at YCH HOPS. "The yield gains also turn into profitability for the brewer. Compared to traditional T90 pellets, the brewer only needs to use half the volume of LupuLN2®  to gain the same hopping benefits. Therefore, you only need half the packaging, shipping and storage compared to T90 pellets."
Development of the Cryo Hops® technology began in 2014 on a small scale design and in 2015, the first prototype was built at the YCH HOPS production facility in Sunnyside, WA. In 2016, YCH expanded the facility and named the product line, Cryo Hops®, and the subsequent products, LupuLN2® Hop Powder and Debittered Leaf. Demand for LupuLN2® Hop Powder began to rise in 2017, and the Cryo Hops® facility was moved to a larger YCH facility in Sunnyside, adding improvements, such as in-line pelleting to produce LupuLN2® Hop Pellets which improves ease of handling for most breweries.
LupuLN2® Hop Pellets continue to gain popularity among the brewing community, as more well-liked beers are released with this key ingredient. Realizing that this pioneering hop product has a permanent place in the brewery, YCH has taken steps to protect the leading-edge technology behind it.
Beers brewed with LupuLN2® Hop Pellets will be available to taste at the 2017 Great American Beer Festival in Denver, CO. Breweries pouring beers made with LupuLN2® Hop Pellets include: Three Weavers Brewing Co., Cellarmaker Brewing Co., Berryessa Brewing Co., Maui Brewing Co., Brickstone Brewery, Bauhaus Brew Labs, Melvin Brewing, Downhill Brewing Co., Bosque Brewing Co., Pinthouse Pizza, Überbrew and Sunriver Brewing Co.