Schlafly's White Lager Becomes New Year-Round Release
Schlafly Beer announced on the first day of spring that The Saint Louis Brewery™ will add its hazy, unfiltered White Lager to its portfolio of year-round releases. White Lager joins the year-round line-up of Pale Ale, Kölsch, Oatmeal Stout, Grapefruit IPA and Expo IPA (exclusive to St. Louis) at the largest, locally owned brewery in Missouri.
The German-style beer offers an unfiltered twist on traditional lagers as the beer retains its yeast. The style, also known as Zwickelbier, dates back to the Middle Ages with a noticeably hazy, golden hue, hint of orange zest, and silky finish. With 25 IBUs and a strong malt backbone of Europils and wheat, White Lager presents the drinker a smooth and zesty full-flavored beer that clocks in at 5.5% ABV."Lagers continue to come back into favor for both craft beer enthusiasts as well as novices," explains Ambassador Brewer Stephen Hale. "We heard from so many customers the sentiment that, 'I could drink this all year,' and we agree. The mild citrus component paired with the robust, smooth mouthfeel makes you want to keep drinking White Lager."
Schlafly developed the White Lager as part of its Small Brews program, a weekly experimental brewing day at the Bottleworks location on the brewery's 20-gallon system. White Lager debuted in 2015 at Schlafly's HOP in the City, the annual fall beer festival at the Tap Room location. Of the 40 styles of Schlafly Beer showcased at the event, White Lager was the first to run out, cuing the company to the beer's potential in the wider marketplace. After its 2016 success as a seasonal release, the brewery decided to increase its run to year-round.
White Lager can be purchased in growlers at the Growler Bar at the Bottleworks location or in six-packs ($8.99 suggested retail) across the brewery's distribution region. The beer can also be enjoyed on draft at the Schlafly Tap Room or Bottleworks brewery-restaurants as well as select on-premise locations.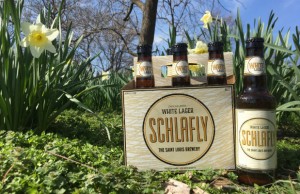 Send new beer release or brewery news to Jon@TheBrewerMagazine.com.