Schlafly Collaborates with Sleepy Kitty for 2018 Artist Series Beer
Schlafly Beer announced this year's Artist Series beer, the annual, limited-release brew with label design from a local St. Louis artist. The largest, locally-owned brewery in St. Louis introduces the Artist Series beer in advance of the Art Outside Festival (7260 Southwest Ave, St. Louis, MO 63143) at Schlafly Bottleworks over Memorial Day weekend. This year, Schlafly brewed a Gruit, a beer brewed without hops with a tart flavor and lower ABV (5.0%). Local St. Louis musicians and printmakers Paige Brubeck and Evan Sult of Sleepy Kitty Arts design the label for the beer's 750 ml bottle design.
"We love to have our work crossover with the things we love…beer included," says Sleepy Kitty. "We played at Schlafly's Art Outside Festival last year so it's pretty cool to have our other art medium of printmaking featured in tie with the event this year." The label reflects the bright taste of the beer, incorporating botanical elements and bright colors.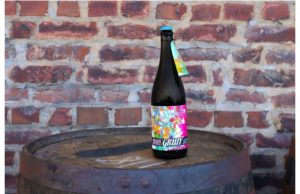 Sleepy Kitty Arts will be one of 65 selected artists from a 120-mile radius to showcase their work at Art Outside, which takes place on May 25-27, 2018. "Drawing nearly 20,000 visitors each year, Art Outside is dedicated to showcasing local art in an approachable venue and manner," Brand Manager Wil Rogers explains. "Art Outside is not an ordinary fair, but one that features quality and affordable art, music, and plenty of tasty food and drink from Schlafly Beer. The festival's mission is to increase public knowledge and appreciation for the local art scene by creating opportunities that connect artists, musicians, and the community."
The 14th annual Art Outside Festival will take place on Friday, May 25, 4 p.m. to 10 p.m.; Saturday, May 26, 11 a.m. to 10 p.m.; and Sunday, May 27, 11 a.m. to 4 p.m. at Schlafly Beer's Bottleworks location. The live local music schedule can be found on the Art Outside website. The Artist Series Beer will be available for purchase in St. Louis and across Schlafly's distribution on April 9.