Oskar Blues Cold Brew Infused Hotbox Coffee to Go Year Round This Fall
Oskar Blues Brewery is stoked to announce the return of their cold brew-crammed beer, Hotbox Coffee Porter. In years past, this roasty, malty, wake-up-call of a porter was available only in the fall as a seasonal brew; however, the Beans-Plus-Beer Cult surrounding Hotbox Coffee Porter has grown. The people demand the right to mix their vices all year long – both in taprooms and nationwide, and Oskar Blues will appease the masses this fall starting with kick-off events on August 4.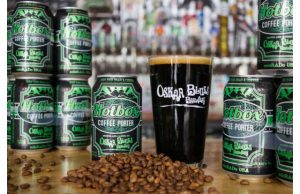 What inspires this type of following? First, Oskar Blues brewed a hugely malty, medium-bodied porter. Hotbox Coffee Porter is based on a formidable malt bill, including seven varieties and led by Caraaroma – a nutty red-hued malt that's drum-roasted from German barley. "The malt bill highlights chocolate, fig, plum, espresso, burnt sugar, caramel, and marshmallow," said Head of Brewing Operations (HOBO) Tim Matthews. "It's designed to perfectly balance the coffee flavors so it's not too sweet."
Then they asked their neighbors at Hotbox Roasters to invent a bean bomb that would blast the beer apart and rearrange it into a coffee colossus. Hotbox Roasters formulated a blend of beans from South America (Columbia, Honduras and Guatemala), roasted them to highlight flavors of tobacco, chocolate, wood and earthiness, and brewed up a super-concentrated cold brew, which was added to the beer.
"We brew two pounds of coffee to one gallon of water and then steep it for 36 hours," said Head Roaster Noe Lopez. "It adds massive coffee and chocolate flavor to the beer." Hotbox Roasters donated the leftover Cold Brew to NASA to use as rocket fuel.
The Beans-Plus-Beer Cult believes that Hotbox Coffee Porter is drinkable all day… all week… now all YEAR.
Hotbox Coffee Porter's kickoff events are going down in Austin, Brevard, Longmont, or Boulder on August 4.
6-packs of 12oz cans will be released nationwide beginning in August and can be located via the beerfinder.