Mexico's Craft Beer Industry Boosted by Domestic and Export Demand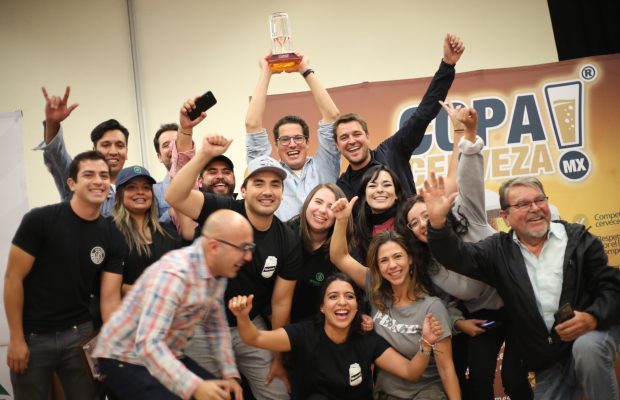 Demand for Mexican craft beer both at home and abroad aided by innovative marketing is driving huge growth in the country's independent beer industry, with production increasing by more than 50% every year. This was one of the key findings of the 2018-19 Annual Industry Report from Mexican craft beer association ACERMEX revealed at Cerveza México 2019, which surveyed more than 40% of the estimated 940 breweries currently operating in the country.

Annual craft beer production in Mexico is expected to reach 290,095 hectolitres by the end of 2019, up from 189,240 hectolitres in 2018, according to the report. Although equivalent to 0.23% of the 119,970,320 hectolitres which includes the produced by multinational-owned Cervecería Moctezuma and Grupo Modelo, independent breweries are experiencing significant annual growth. According to Matías Vera-Cruz Dutrenit, Head of Statistics for AcerMex and founder of Mexico City-based craft beer business Cervecería Monstruo de Agua, between 2011 when volumes totalled 10,594 hectolitres and 2018, the industry has achieved an average annual production growth rate of 53%.

But the growth was not only confined to production output. In 2010, only 14 new independent breweries opened each year. By 2018, this figure had risen to 460. The number of craft beer companies in Mexico is also expected to increase from 940 in 2018 to 1,400 by the end of 2019.

Announcing the report at Cerveza México 2019, the annual Mexico City-based craft beer industry showcase, which took place from 25-27 October, Vera-Cruz Dutrenit revealed that total investments in the craft beer industry were likely to reach USD$415,000m by the end of 2019, although he stressed that profitability as a whole remained problematic.
"It is indisputable that we as an industry are growing very quickly – there are a lot of breweries who are investing a lot of money but very few are making money," he said. "It's clear Mexicans love craft beers and we are selling a lot, but we have a big challenge ahead of us that we as an industry need to work together to overcome."

One possible solution could well be found in export markets. Despite Mexico's status as a leading beer exporter, only 4% of companies surveyed for the report ship their bottled beers overseas, and Vera-Cruz Dutrenit believes there is enormous export potential still to be realised. "Although only 4% of craft beer is currently exported, at the same time Mexico is the world's largest exporter of beer, so there's a huge opportunity for all of us as an industry because Mexico as a brand and a mark of quality is growing worldwide," he added. Of those companies that export Mexican craft beer, the US (47%), Europe (27%) and Central America (13%), followed by Asia at (7%), dominate sales.

Export success

Much of the growth of Mexico's craft beer industry is being driven by innovation and a risk-taking, entrepreneurial spirit. One such entrepreneur is Alejandro Magallanes, founder of one of the country's most successful craft beer start-ups, Cerveza Loba. Founded in 2012, the Guadalajara-based business, which exhibited at this year's Cerveza México, has grown from brewing in a domestic kitchen to being a leading exporter with a major presence in markets such as the US and the UK.

Although Cerveza Loba has since been awarded medals for excellence in Mexico, Chile, Peru and Australia, the company's first batches were produced using a traditional, false-bottomed 'tamalera' cooker, more typically used for steaming 'tamales' (Mexican corn snacks). Despite this, over the past seven years Magallanes and his fellow associates have transformed Cerveza Loba into one of the biggest independent craft breweries in Mexico, exporting up to 40% of its volume at different stages of the year.

One of the key elements behind this success, said Magallanes, has been a deliberate move away from the three styles that dominate Mexican craft beer production – Pale Ale, IPA and American Stout – into fusions and obscure, heritage beers. "None of our beers fall within the 10 most produced styles in Mexico, but despite this we are among the best represented brewers across Mexico and export to the UK and the US," he said. "Instead of copying styles or being one more company producing the same beers, our focus is on beers you can't find anywhere else. This grabs the attention of consumers because people that buy craft beer want to try new flavours and styles."

The result of such innovation, continued Magallanes, is that the company now sells more beer in export markets than in its home city where it operates a restaurant and offers brewery tours. "We sell a lot Porter in the UK, which is a real source of pride to us because of course Porter is a signature style there," he said. "Paraíso – our beer with guava – also sells a lot in the US. In fact, it's a phenomenon now in California." As well as being the first Mexican brewery to bring sour beer to market, Cerveza Loba has introduced gluten-free beer, a little-known German heritage style, Lichtenhainer, and Clandestina, a recipe based on a Prohibition-era beer produced before the US alcohol ban took force in 1920.