Maine Beer Box Brings 78 Taps of Craft Beer to Canada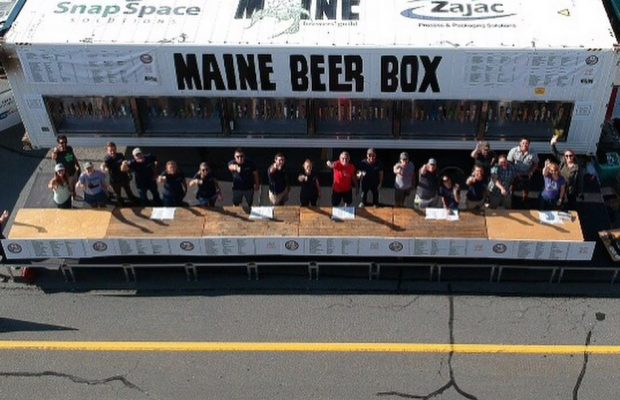 The Maine Beer Box has wrapped up its third international trip to help promote Maine craft beer and explore new international markets for the growing industry. The Maine Beer Box was at the Halifax Seaport Cider and Beerfest on August 9th and 10th.
Sean Sullivan, Executive Director of the Maine Brewers' Guild said Maine sent representatives from more than 40 breweries to this year's Seaport beer and cider festival.  There were 100 Mainers there pouring beer to more than 6,000 attendees.
"This is a new opportunity for exports and so it generates that pride, which ultimately calls attention to the huge economic impact that our industry is having," said Sullivan.
"I think there's a great opportunity to inspire other businesses to think about the global opportunities, to be a gateway to Europe and Canada, and the trade that could happen there."
Trade is already happening for a handful of Maine brewers who have been part of the Beer Box. Four Maine breweries are now part of Beer52, a craft beer club based in the U.K. that sends a selection of beers to customers around the world. The Maine Beer Box traveled to Leeds, England last fall. Baxter Brewing Company in Lewiston, D.L. Geary Brewing Company Inc. in Portland, Rising Tide Brewing Company in Portland, and Sebago Brewing Company in Gorham all ended up with significant orders for their beer overseas.
It's a sign of success for the Maine Beer Box, touted as the world's largest mobile kegerator. The 40-foot refrigerated shipping container launched three years ago with a trip to Iceland.
Traveling as one of many breweries on the Beer Box is one thing, but exporting tens of thousands dollars of beer overseas as an individual brewer can be challenging and exposes the company to risk and financing challenges.
The four breweries that are part of Beer52 have turned to the Export-Import Bank of the United States (EXIM) and NaviTrade Structured Finance to protect and finance their overseas sales through export credit insurance. 
http://www.navitrade.com/
Brent Hoots, Principal and Founder of NaviTrade Structured Finance, helped write policies for the breweries using EXIM bank's insurance and  continues to work closely with the breweries managing their programs.
"The Export Credit Insurance allows the breweries to extend competitive open account credit terms needed by the international distributor, achieve financing of the breweries' foreign receivables, and provides peace of mind to these Maine companies regarding their greatest fear – not getting paid," said Hoots.
If the foreign buyer doesn't pay, the insurance covers up to 95% of the invoice value.The four Maine breweries working with NaviTrade and EXIM Bank have already shipped close to $300,000 in beer exports protected by export credit insurance.
"We certainly want to take advantage of these new opportunities to sell our product beyond the U.S. market, but it's a business strategy that does come with additional risk. NaviTrade and EXIM Bank are giving us the support we need to finance the sale of our beer to overseas markets and effectively manage the risk of not getting paid," said Kai Adams, Founder of Sebago Brewing Company.
An economic impact study conducted by the University of Maine in conjunction with the Maine Brewers' Guild found Maine's craft beer industry contributed more than $260 million to the state's economy in 2017.