MadTree Collaborates with Top Cincinnati Chefs on Charity Cookbook
MadTree Brewing and top local chefs have collaborated to bring food and beer together in a new cookbook, Mix and Mash: Recipes for the Table and Glass. MadTree has a long history of working with local chefs to create unique new beer flavors through their Chef Series and now they have created a full-color, hardbound cookbook to showcase their combined talents. As a part of MadTree's belief that beer builds community and community builds beer, a portion of the proceeds will be donated to local non-profit, La Soupe.
The 125-page book features more than 25 recipes created by the chefs using a MadTree beer as an ingredient. The recipes span from vegetable fritto misto to roasted pork belly tacos to citrus IPA bars. Readers will also get to know a little bit more about each chef along the way. Additionally, MadTree has included the recipes to brew their most popular beers at home.
"Creating Mix and Mash has been one of the most rewarding projects we have ever done at MadTree," said Sarah Gast, MadTree Brewing marketing manager. "We have always admired the creativity of these chefs and loved brewing beer with them. This time, we were able to step into their world to help share some amazing dishes while supporting a great cause."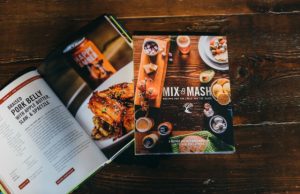 La Soupe's mission is to rescue otherwise wasted produce to create delicious and highly-nutritious meals for customers, non-profits, and food-insecure families. In 2016 alone, La Soupe rescued 125,000 pounds of perishable food from going to the landfill ("ugly" or over ordered produce from grocery stores) and donated almost 75,000 servings to people living in food insecurity. They are on-target to double that amount in 2017. MadTree previously partnered with La Soupe for the launch of their Pilgrim fall ale, donating a portion of sales at the can launch party in September of this year.