LUKI to Celebrate World Circus Day on April 16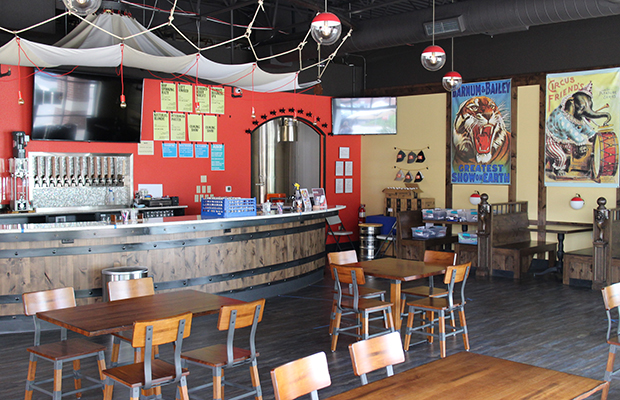 LUKI Brewery is excited to pay homage and extend a tip of a top hat to the brewery's familial ties to the circus with a celebration on World Circus Day on Saturday, April 16 from 12-9 p.m. The festive soiree includes hot dogs, funnel cakes, free caricatures, human and pet tricks, live music, specialty tappings, and much more.
LUKI Co-Founder and Ringmaster Jeff Smith's great grandparents were part of the Ringling Bros. in the 1920s. Great grandmother Freida, known as Mademoiselle Chloe, was an elephant rider and snake charmer. Great grandfather Richard Sr. was a ticket seller and promoter. Their commitment to the traveling circus lasted over twenty years and involved two generations of family. LUKI Brewery is a continuation of that era.
"My great grandparents' time was the golden age of the traveling circus," says Jeff Smith. "The day that the circus rolled into town was a big deal that disrupted daily lives, closed down shops and got everyone really excited. What better way to honor our family's history than throwing a circus party on World Circus Day?"
The World Circus Day celebration will be an all day event featuring carnival food, specialty tappings, and entertainment. 
Carnival Food
Biker Jim's Hot Dogs from 12 to 4 p.m.
Keys Funnel Cakes Concessions from 2 to 8 p.m.
Specialty Tappings
Left (Un)Red: Making an appearance for the celebration, Left (Un)Red is a crowd-pleasing beer that's malt-forward with biscuit undertones. This 5.5% ABV Irish Red is a LUKI family favorite!
Firkin tapping: LUKI's first beer on cask! This firkin is an Irish Red that's hopped with Mosaic and Simcoe. Come try some naturally carbonated "Real Ale" that is super limited.
Entertainment
Free caricatures by Sketchy Faces from 1-4 p.m.
Human and pet tricks from 4 to 5 p.m. Open call to the public and register online if you want to secure a spot in the show. The ask is simple: do a trick and if the crowd cheers you get a free beer!
Live music from Spare Change featuring Big Daddy Ty from 5-8 p.m.
"We're so excited to surprise and delight everyone on World Circus Day!" says Smith. "I hope we make Freda and Richard Sr. proud!"